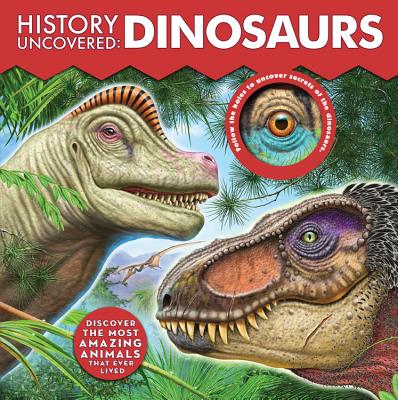 History Uncovered (Board book)
Dinosaurs: Discover The Most Amazing Animals That Ever Lived - Follow the holes to uncover secrets of the dinosaurs.
becker&mayer! kids, 9780760360330, 16pp.
Publication Date: August 21, 2018
* Individual store prices may vary.
Description
Travel back in time to the age of dinosaurs with History Uncovered: Dinosaurs! Learn about different time periods, including Jurassic and Cretaceous, and the most exciting dinosaurs that lived during each one, including Tyrannosaurus rex, Stegosaurus, Triceratops, and more!

Discover what dinosaurs ate, how they lived, and why they went extinct. As you move forward in time, experience the changing landscape of the Mesozoic Era as life evolved and the plates moved apart to create the globe we know today!

The dynamic History Uncovered series shows kids how the world changed throughout history in an innovative format with stunning illustrations and fascinating facts. These books include die-cuts on every page that create a strong narrative thread, tying spreads together and engaging children to turn the page.

Parents and children will pore over the information and images and uncover new details as they return to read again and again.
About the Author
Dennis Schatz is Senior Advisor at Pacific Science Center in Seattle, Washington. He is also Field Editor of a new journal, Connected Science Learning, which highlights links between in-school and out-of-school learning. The journal is a joint effort of the National Science Teacher Association and the Association of Science Technology Centers.Dennis is the author of 23 science books for children, including Uncover A T. rex (becker&mayer!), the Fossil Detective series of four books (becker&mayer!) and the popular Totally series of six books (Totally Dinosaurs in 2000 to Totally Sea Creatures in 2003; becker&mayer!). His books have sold almost 2 million copies worldwide and have been translated into 23 languages. His Uncover A T. rex book was a 2003 Parents Choice Award Winner, and his Fossil Detective Woolly Mammoth received a 2006 iParenting Media award. He is also coauthor/editor of several curriculum resources for teachers. He lives and works in Seattle, Washington.