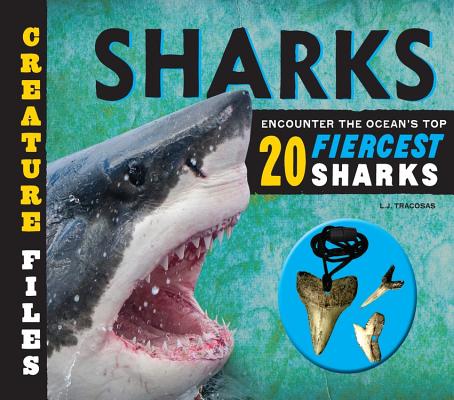 Creature Files (Hardcover)
Sharks: Encounter the Ocean's Top 20 Fiercest Sharks
becker&mayer! kids, 9780760360361, 48pp.
Publication Date: April 3, 2018
* Individual store prices may vary.
Description
Peek into the jaws of 20 of the ocean's most dangerous predators with the next title in the Creature Files series! Creature Files: Sharks features photos, facts, and maps that provide up-close tours of some of the most terrifying sharks in the seas.
 
Did you know that a shark can grow over 20,000 new teeth in its lifetime? Or that some sharks will eat anything, from tiny fish to license plates from cars?

An incredible amount of information about sharks can be revealed by examining the teeth and jaws of the 20 jaw-snapping species covered here, in Creature Files: Sharks. From aggressive sharks like the great white to the truly weird ones like the goblin shark, this book is packed with awesome photos and fascinating facts about the ocean's most amazing predators.   

Three specially molded replica teeth are included in the front cover, so you can feel the power of a shark's real bite—and deduce which sharks the teeth come from using your new shark-bite expertise.

This book also includes a breakaway cord to make your own shark-tooth necklace!
About the Author
L. J. Tracosas writes books for curious kids and edits anything she can get her hands on. She's published 10 books for young readers, including the best-selling Creature Files series, as well as licensed titles with Mattel, WWE, and others. L.J. lives in Atlanta, Georgia.