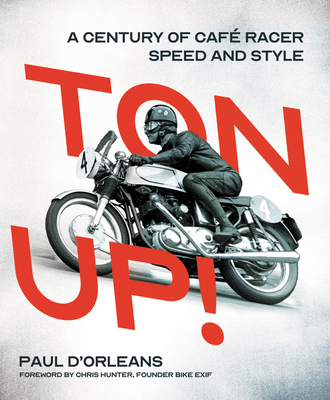 Ton Up! (Hardcover)
A Century of Café Racer Speed and Style
Motorbooks, 9780760360453, 208pp.
Publication Date: December 31, 2019
* Individual store prices may vary.
Description
Ton Up! A Century of Café Racer Speed and Style focuses on the story of the ton-up boys and their café racers. But it's much more than just that. Illustrated with historic and modern photos and featuring a text by one of the world's motorcycle historians, it's really the story of motorcycle speed and style evolved from the early 1900s right through today. 

Cafe racers are most associated with the young, rebellious rock-and-rollers of 1960s Britain. These riders created the quintessential café racers—fast motorcycles customized to resemble the racing bikes of the period. They were called "café racers" because their riders raced on public roads, from one café to the next. The goal was to do "the ton" (exceed 100 miles per hour) on these runs, which led to their designation as "ton-up boys."

Today, ton-up culture is more popular than ever and recognized worldwide with a following of young and long-time riders alike.With Ton Up!, enjoy a scenic ride through the history of this vibrant scene.
About the Author
Author bios: Paul d'Orleans, better known as the publisher of the website The Vintagent, travels the world following the vintage, custom, and electric motorcycle scenes. As a rider, collector, and recognized expert on moto-history, he is a passionate advocate for motorcycles and writes for numerous magazines (including Cycle World, Classic Bike Guide, Kraftrad, etc), and websites worldwide. He also is co-founder of the Motorcycle Arts Foundation and guest curator at the Petersen Museum in Los Angeles (Custom Revolution, Electric Revolution), He can be seen commenting on the Las Vegas motorcycle auctions for NBCSN, and he resides in San Francisco, California.