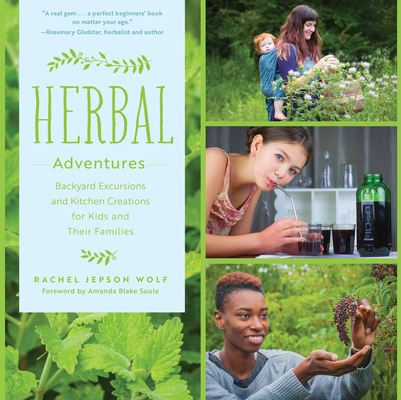 Herbal Adventures
Backyard Excursions and Kitchen Creations for Kids and Their Families
Paperback

* Individual store prices may vary.
Praise For Herbal Adventures: Backyard Excursions and Kitchen Creations for Kids and Their Families…
Herbal Adventures has everything I appreciate in a good herb book: sound practical information and great remedies and recipes, all enhanced by personal stories and insights. This may be my new favorite!
- Rosemary Gladstar, herbalist and author
Herbal Adventures is the perfect guidebook to plant-based fun for families with children.
- Samuel Thayer, author of The Forager's Harvest, Nature's Garden, and Incredible Wild Edibles
If you've ever wanted a friendly guide to connecting your family to the plants that sustain and heal us, look no further.
- Ben Hewitt, author of Home Grown and The Nourishing Homestead
Like stumbling upon a hidden brook on a bright summer's day, this book is a refreshing treasure for the earth-curious child and the young-at-heart of every age. Rachel shows us how the natural world is the real fairy tale, and how much closer we are to that magic than we think.
- Asia Suler, Creator and Concoctress of One Willow Apothecaries
The beauty on each page of Herbal Adventures makes me desperate to create! Rachel keeps the projects accessible and the photographs are stunning. This book is sure to be well-used and well-loved.
- Jamie C. Martin, editor of SimpleHomeschool.net and author of Give Your Child the World
Young Voyageur, 9780760360514, 176pp.
Publication Date: October 23, 2018
About the Author
Rachel Jepson Wolf loves nothing more than bringing people and plants together. With a degree in environmental education and biology, Rachel spent years helping kids and adults fall in love with the natural world. In 2002 she founded LüSa Organics, a botanical body care company, and more recently began leading in-person herbal retreats for adults and children. She is also the author of Herbal Adventures, a family-friendly exploration of herbs and the wonderful things you can make with them. Today Rachel lives with her husband, Pete, and their two children, Lupine and Sage, on a wonderfully weedy homestead in rural Wisconsin. Her days are spent writing, foraging, playing with plants, and homeschooling her kids. Find Rachel online at rachelwolfclean.com, where she blogs about herbs, farm, and family; or explore her herbal body care line at lusaorganics.com.