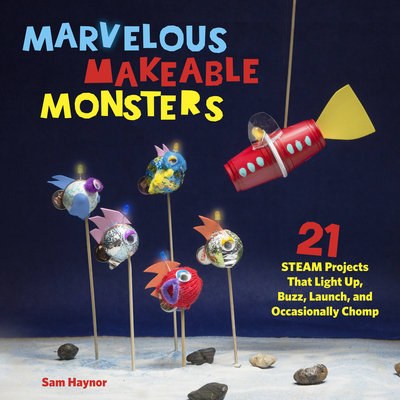 Marvelous Makeable Monsters (Paperback)
21 STEAM Projects That Light Up, Buzz, Launch, and Occasionally Chomp
Young Voyageur, 9780760361016, 120pp.
Publication Date: October 9, 2018
* Individual store prices may vary.
Description
Experiment, learn, and imagine as you make the 20+ spinning, swimming, flying, and lurking creatures of Marvelous Makeable Monsters. 
What can a makeable monster do? They motor, inflate, wobble, drool, soar, and one of them can even do push-ups. Add a pair of wings, subtract a tentacle...the best thing about these monsters is that they're part
experiment
, part
imagination
, and 100 percent 
customizable
. Author Sam Haynor draws on his experience with the San Francisco Exploratorium, Oakland Toy Lab, Goldieblocks, and designing STEAM curriculum to create projects packed with features. While, on the outside, most appear to be built completely from common craft materials, they contain 
circuits
,
levers
,
projectile-launchers
,
puzzles
, and much more. The projects are safe and fun for younger kids working with adults, and most of them can be tackled by middle-graders with minimal adult help.  
Every land is filled with discovery:
The Castle of Clouds features high-flying creatures that soar like airplanes and spin like helicopters.
Dive into the sea and you'll find find fishy monsters illuminating the deep, while others motor across the surface.
The Beastly Big Top is way more exciting than a human circus, with monsters that wobble around the ring (and toss things right back out). 
Carefully creep through the haunted caves, past monsters that build webs and lurk in the dark.
This unique project book built for open-ended exploration is perfect for crafternoons, homeschool activities, and parties.
About the Author
Sam Haynor loves things that go whoosh, ping, doink, and bonk! Sam has below-average crafting skills, but an above-average love of pompoms. He graduated from some places and worked at others, and has been greatly inspired by his students and their incredible imaginations that never seem to stop inventing. While teaching, he became hooked on the idea that change in one's life can come from making things that are personally meaningful—or even making things from trash. He really likes trash. Come find him at the Exploratorium museum in San Francisco, where he currently works as an Exhibit Developer. He'll probably try to convince you to help him build something.