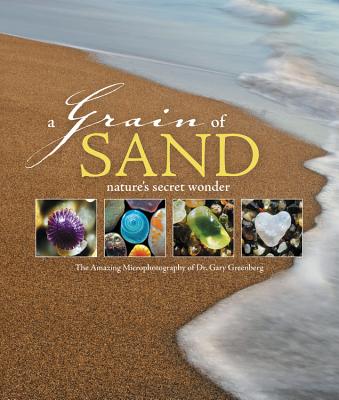 A Grain of Sand (Paperback)
Nature's Secret Wonder
Voyageur Press, 9780760361436, 112pp.
Publication Date: November 21, 2017
* Individual store prices may vary.
Description
A Grain of Sand uses incredible micro-photographic techniques to present you with high-resolution glimpses of the strange and wonderful world that each grain of sand contains.

"To see a world in a grain of sand, And a heaven in a wild flower. To hold infinity in the palm of your hand, And eternity in an hour." William Blake, "Auguries of Innocence" 1805

Here is the world viewed within a grain of sand, thanks to the stunning three-dimensional micro-photography of Dr. Gary Greenberg. To some, all sand looks alike--countless grains in a vast expanse of beach. Look closer--much closer--and your view of sand will never be the same.

Employing the fantastic micro-photographic techniques that he personally developed, Greenberg invites you to discover the strange and wonderful world that each grain of sand contains. See, truly see, the sands of Hawaii and Tahiti, the Sahara and the Poles, a volcano, each exquisitely different, and each telling a fascinating geological story.

Red sand and yellow, white sand and black, singing sand and quicksand: Greenberg's pictures reveal the subtle differences in their colors, textures, sizes, and shapes. And as this infinitesimal world unfolds so does an intriguing explanation of how each grain of sand begins and forms and finds itself in a particular place, one of a billion and one of a kind.
About the Author
Dr. Gary Greenberg earned his doctorate in developmental biology from University College London and later joined the faculty at the University of Southern California. Co-founder of Edge Scientific Instrument Corporation, he developed high-definition 3D light microscopes, for which he has been issued nineteen US. patents. He is currently Research Affiliate at the University of Hawaii Institute for Astronomy.
Dr. Gary Greenberg is a visual artist who creatively combines art with science. The cofounder of Edge Scientific Instrument Corporation, he has a Ph.D. in biomedical research from University College London and holds 17 patents for high-definition three-dimensional light microscopes. He has worked as a photographer, a filmmaker, a biomedical researcher, an academic, an inventor, and an entrepreneur. Since 2001, Dr. Greenberg has been using his special microscopes to create dramatic landscapes of ubiquitous objects like grains of sand, flowers, and food. These everyday objects take on a new reality when magnified hundreds of times. Dr. Greenberg lives in Paia, Hawaii.
Praise For A Grain of Sand: Nature's Secret Wonder…
Shutterbug, October 2008
Sand, it's everywhere and may seem ordinary but Dr. Gary Greenberg expertly combined art and science to reveal the true beauty of each microscopic grain. Sand consists of a vast collection of bits of crystals, coral, shells, sea urchin spines, silica, and calcium carbonate each with a unique shape and color. Dr. Greenberg provided 235 vividly colored images and in depth information to provide a fascinating look at how nature is constantly reshaping the earth and hiding tiny treasures at our feet.