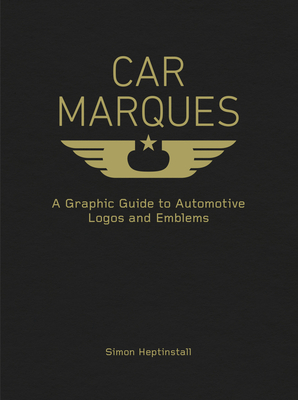 Car Marques (Paperback)
A Graphic Guide to Automotive Logos and Emblems
Motorbooks, 9780760362457, 224pp.
Publication Date: May 1, 2018
* Individual store prices may vary.
Description
Car Marques is the most detailed and comprehensive guide to car badges ever published. In 224 pages it reveals the history and design of over 90 marques from around the world, each with color illustrations and annotated diagrams. British motoring journalist Simon Heptinstall, who helped launch BBC Top Gear magazine, describes each badge, details the story behind it, and uncovers snippets of information that will delight motoring enthusiasts. The introduction outlines how the book works and provides an overview of the history of car badges. Feature spreads show how the badges of iconic marques such as Buick and Peugeot have changed over time. It also contains profiles of major figures in the history of the automotive industry such as André Citroën, Gottlieb Daimler, William C. Durant, and Enzo Ferrari. The badges are arranged in alphabetic order and include world-famous marques such as Alfa Romeo, Aston Martin, BMW, Buick, Corvette, Lamborghini, Mercedes, Mustang, Porsche, and Toyota.
About the Author
Simon Heptinstall is a motoring journalist who helped launch BBC Top Gear magazine and worked behind the scenes on Jeremy Clarkson's Big Boys' Toys TV series. He has worked for Autocar, AutoExpress, Redline, and What Diesel, and has also been an editorial consultant for Toyota, Peugeot, Lexus, and BMW. He has won a Jet Motor Writing Award and once broke the world record for motoring madness by driving to 12 countries… in one day. Simon also has written and edited several books on motoring, including 1001 Cars to Drive Before You Die, Cars: A Complete History, and The Goldfish Guide to Cars. He is motoring correspondent for Harrods Halcyon magazine and Hong Kong–based Jetsetter magazine, and also writes about travel for national media. He was shortlisted as travel writer of the year in 2017.