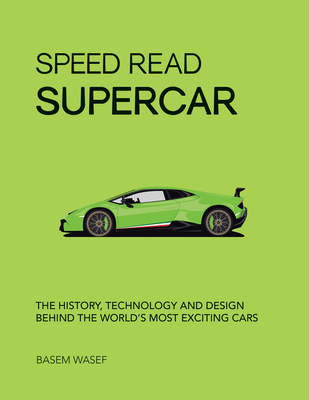 Speed Read Supercar (Paperback)
The History, Technology and Design Behind the World's Most Exciting Cars
Motorbooks, 9780760362914, 160pp.
Publication Date: September 18, 2018
* Individual store prices may vary.
Description
From Motorbooks' beautifully designed and illustrated Speed Read series, Speed Read Supercar guides you through every aspect of these imagination-capturing, eye-widening, land-bound speed missiles.

When Lamborghini unleashed its Miura on an unsuspecting world in 1966, it set off a high-performance arms race that continues to this day. Ferrari, Maserati, Jaguar, Porsche, and Lotus all accepted the challenge. Over the following five decades, numerous others stepped up, including stalwarts like Aston Martin, BMW, and Audi, as well as small-volume specialists such as Koenigsegg, Pagani, Noble, and Spyker. The result is a veritable smorgasbord of blazingly fast and delicious-looking land missiles available to anyone with several hundred thousand dollars to spare.

Supercars are complex subjects that interest nearly everyone. Every part of a supercar represents myriad decisions informed by engineering, aesthetics, human interface, and emotion. Speed Read Supercar answers the hows and whys of these fantastic cars in sections divided by topic, offering an engaging review of history, engineering, design, key concepts, and key people.

Each section ends with a glossary of related terms, and informational sidebars provide fun facts, historical tidbits, and mini-bios of key people in the supercar world. Sleek illustrations showcase the incredible designs.

With Motorbooks' Speed Read series, become an instant expert in a range of fast-moving subjects, from Formula 1 racing to the Tour de France. Accessible language, compartmentalized sections, fact-filled sidebars, glossaries of key terms, and event timelines deliver quick access to insider knowledge. Their brightly colored covers, modern design, pop art–inspired illustrations, and handy size make them perfect on-the-go reads.
About the Author
Basem Wasef's passion for supercars can be traced back to grade school where he decorated the margins of his schoolbooks with fantastical automotive shapes. His automotive journalism for Automobile, Robb Report, and Men's Journal has since put him behind the wheel of some of the most desirable ultra-high-performance cars on the planet, exploring their limits at places like Ferrari's private race circuit at Fiorano, the Nürburgring Nordschleife, and the Mille Miglia classic car rally.