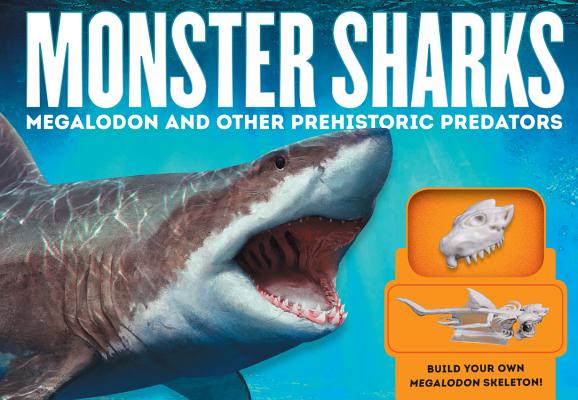 Monster Sharks (Hardcover)
Megalodon and Other Giant Prehistoric Predators of the Deep
becker&mayer! kids, 9780760362952, 48pp.
Publication Date: September 11, 2018
* Individual store prices may vary.
Description
Monster Sharks: Megalodon and Other Giant Prehistoric Predators of the Deep  brings real-life sea monsters back from extinction and up from the ocean depths with its fascinating facts and build-it-yourself Megalodon skeleton.

Did you know that the prehistoric mega-shark called Megalodon was thirty times larger than a great white shark? If Megalodon were still alive, it would be able to destroy entire boats and swallow people whole! This nightmare-inducing shark continues to fascinate—and horrify—shark fans everywhere.

Monster Sharks: Megalodon and Other Giant Prehistoric Predators of the Deepbrings to the surface everything there is to know about this famed monster and explores other giant sea monsters from the past, including Tylosaurus (the deadliest marine hunter of its time) and the Elasmosaurus (a swimming reptile with a neck four times longer than a giraffe.)

With your imagination brimming with the amazing facts and figures of Monster Sharks, bring your own Megalodon to life with this 17-piece, 8.5" long, intricately detailed Megalodon skeleton, complete with a 2-part stand. Assemble it yourself! 
About the Author
Brenda Gurr is the author of numerous educational books and articles for children of all ages. Her fiction work covers chapter books, stories and plays, and she has written non-fiction material in areas such as English, history, and mathematics. She has a background in elementary teaching and qualifications in English, Editing, Drama and Education.
R.J. Palmer is an artist and illustrator from California, based in Burbank. He specializes in creature design for film and video games and his art has been featured the world over. 
or
Not Currently Available for Direct Purchase