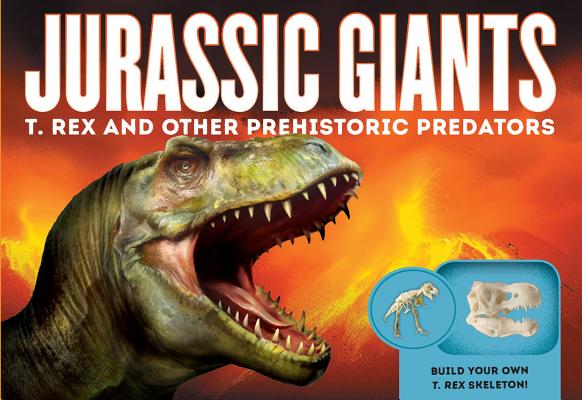 Jurassic Giants (Hardcover)
T. rex and Other Prehistoric Predators
becker&mayer! kids, 9780760363195, 48pp.
Publication Date: September 11, 2018
* Individual store prices may vary.
Description
T. rex comes to life like never before with Jurassic Giants, jam-packed with fun facts, incredible graphics, and cool statistics about the biggest and baddest creatures to ever live. With a detailed, 15-piece, 6" tall model of a T. rex included in the kit, kids can assemble and enjoy a Jurassic giant of their own!

Jurassic Giants gives you an up-close and personal look at T. rex—and its favorite meals. Fierce predators, epic battles, enormous teeth—life in the Mesozoic Era was really hard ... unless, of course, you happened to be a Tyrannosaurus rex! With its powerful jaws and its keen sense of smell, this King of the Cretaceous had no problem tracking down, killing, and eating its prey.

Tyrannosaurus rex may have reigned supreme, but there were lots of other predators to worry about: Giganotosaurus, Spinosaurus, Allosaurus, and Utahraptor to name a few.

How did leaf eaters survive in a world full of carnivores? What caused the dinosaurs to go extinct? And where can you see a T. rex skeleton for yourself? Find the answers to these questions and more, inside. After learning tons of awesome facts, kids will get a thrill out of creating their very own terrible T. rex skeleton.
About the Author
Jacqueline A. Ball is the former publisher of Scientific American Books for Kids and Weekly Reader Juvenile Book Clubs. She has written and produced numerous single titles and series for such publishers as becker&mayer!, Bearport, Discovery Channel, Disney, HarperCollins, McGraw-Hill, National Geographic, Scholastic, Silver Dolphin Press, Sourcebooks, Time-Life Books, and World Almanac. Jackie's series of teacher's guides for Discovery Channel Science Collections was named Outstanding Teacher Resource of the year by the Educational Press Association. Other awards and honors include Booklist Top 10 Youth Series Nonfiction (ALA), Children's Choice and Parents' Choice Honors. Jackie moved from New York City to Seattle, WA, in 2012.