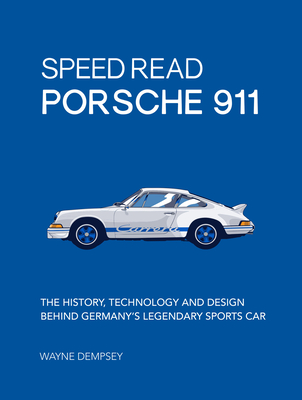 Speed Read Porsche 911 (Paperback)
The History, Technology and Design Behind Germany's Legendary Sports Car
Motorbooks, 9780760363225, 160pp.
Publication Date: September 18, 2018
* Individual store prices may vary.
Description
This beautifully designed and illustrated essential guide to Porsche 911 from Motorbooks' Speed Read series explores the ins and outs of one of the world's premier sports cars; see what makes it tick, what makes it work, and how it managed to win so many titles and championships. 

Author Wayne Dempsey examines the creation and design of Porsche's rear-engined wonder, providing an inside look into every aspect of the 911. In sections divided by topic, you'll explore the evolution of the 911 from its initial design to its current form, the story of Porsche 911's racing success, tales of some of the greatest 911s ever produced, and the passionate community that has evolved around the 911 from its earliest days.

Each section ends with a glossary of related terms, and informational sidebars provide fun facts, historical tidbits, and mini-bios of key people. Sleek illustrations brilliantly capture the 911 in its many elegant forms.

With Motorbooks' Speed Read series, become an instant expert in a range of fast-moving subjects, from Formula 1 racing to the Tour de France. Accessible language, compartmentalized sections, fact-filled sidebars, glossaries of key terms, and event timelines deliver quick access to insider knowledge. Their brightly colored covers, modern design, pop art–inspired illustrations, and handy size make them perfect on-the-go reads.
About the Author
Wayne R. Dempsey is the author of several best-selling Porsche how-to books, including 101 Projects for Your Porsche Boxster, 101 Projects for Your Porsche 911 (1998-2008),101 Projects for Your Porsche 911 (1965-89), and How to Rebuild and Modify Porsche 911 Engines. He has been working and playing with mechanical machines all his life. Wayne earned both BS and an MS degrees in Mechanical Engineering from the Massachusetts Institute of Technology. His connection to automobiles deepened when he raced with the MIT Solar Electric Vehicle Racing Team. Post MIT, Dempsey spent a few years building communications satellites for Hughes Space and Communications, before leaving to pursue an entrepreneurial calling. Literally starting in his garage, Dempsey co-founded Pelican Parts, an internet-based automotive-parts company specializing in European cars. Today, Pelican Parts is thriving business featuring an active online community and numerous technical articles authored by Dempsey (PelicanParts.com).
Praise For Speed Read Porsche 911: The History, Technology and Design Behind Germany's Legendary Sports Car…
"...should bring delight to anyone interested in the 911 — be they a newcomer to the model or an established enthusiast."
- Porsche Club of America