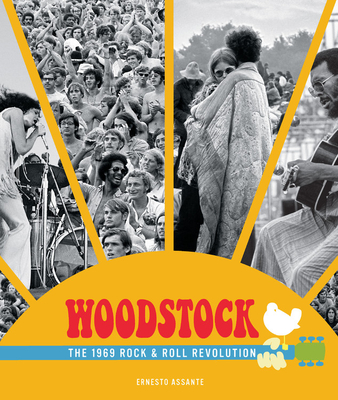 Woodstock (Hardcover)
The 1969 Rock and Roll Revolution
becker&mayer! Books, 9780760363256, 224pp.
Publication Date: November 6, 2018
* Individual store prices may vary.
Description
Woodstock: The 1969 Rock and Roll Revolution celebrates the fascinating story of how the music event came to be and the people that made it part of history.

How can you explain the Woodstock Festival, 50 years after the event, to those who were not fortunate enough to take part? The concert that changed the history of rock music and an entire generation cannot be reduced to the photos. Half a million young people come to Bethel, New York, from every corner of the world to experience three days of music together. 

This event, now legendary, resounds with the psychedelic notes of Santana and the sublime guitar of Pete Townshend of The Who, the rich voices of Joan Baez and Janis Joplin, and the many other artists who appeared one after another on the stage. Yet, it was perhaps the guitar of Jimi Hendrix as he played his version of the American national anthem, "The Star-Spangled Banner," as Woodstock screamed its impetuous, revolutionary protest against the war in Vietnam, that became the symbol of an epochal dissent.

In Woodstock, journalist and music critic Ernesto Assante presents those unforgettable days through exclusive interviews and photos he has recorded throughout his entire career. Michael Lang, Carlos Santana, Joe Cocker, Grace Slick, Arlo Guthrie, Joan Baez, Bob Weir, Roger Daltrey, Graham Nash, will all take us to Bethel to re-live and give thanks to the extraordinary figures that made Woodstock a legend that still echoes today.
About the Author
Ernesto Assante began working in journalism in 1977 and, in his thirty-plus year career, he has collaborated with numerous weekly and monthly Italian and international publications, including Epoca, L'Espresso, and Rolling Stone. He conceived of and oversaw the "Music," "Computer Valley," and "Computer, Internet, and More" supplements for the Italian newspaper, La Repubblica. He is the author of books on music criticism, a few of which were co-written with his colleague Gino Castaldo. In 2005, the two created "Lezioni di Rock. Viaggio al Centro della Musica" (Lessons in Rock. A Voyage into the Heart of Music) with the intention of delving into the stories of those who have gone down as legends in rock history, making use of guided listening and demonstrative videos. From 2003 to 2009, he taught "New Media Theories and Techniques" followed by "Analysis of Musical Languages" at the Sapienza University of Rome in the Communication Science Department. Among his numerous publications about music are Legends of Rock, Masters of Rock Guitar, 5 Seconds of Summer, The Milestones of Rock & Roll, and U2: Past, Present, Future.