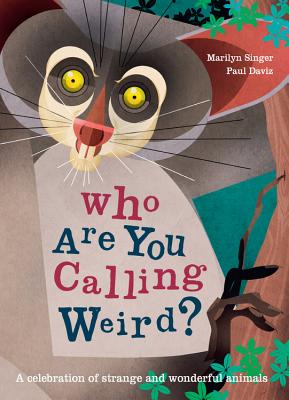 Who Are You Calling Weird? (Hardcover)
A Celebration of Weird & Wonderful Animals
words & pictures, 9780760363393, 48pp.
Publication Date: October 23, 2018
* Individual store prices may vary.
Description
Celebrate the weird, wonderful, and the downright bizarre in this compelling compendium of unusual animals. From the green fur of a three-toed sloth, to the pink and wiggly appendage of the star-nosed mole, there's something new to marvel at on every page.
Delve into the forests, burrow under the ground, and dive into the deep to
discover nature's most peculiar creatures
and learn about their behavior, diet, and habitat, as well as folk beliefs about each animal.
Hidden away in Earth's forests, caves, and oceans, these creatures might look or behave in peculiar ways but, as you will soon find out,
every oddity serves a purpose
:
the long, skeletal finger of an aye-aye, used by this lemur to tap on trees to locate hollow tunnels where delicious insects hide
the barrel-shaped eyes of a Pacific barreleye fish that turn upward to watch for prey above through its transparent head
the big, bulbous nose of a proboscis monkey designed to attract mates
the armor-like scales of a pangolin that are so tough that even lions and tigers can't bite through them
Come face-to-face with the most curious creatures from across the globe, and decide for yourself who's the weirdest of them all.
About the Author
Marilyn Singer is a multi-award-winning children's author who has written many books, spanning poetry, picture books, fiction, and non-fiction. Her awards include the 2015 NCTE Award for Excellence in poetry, the Cybil Award for Poetry 2011, and several Children's Choice and Parents' Choice Awards, among others. She lives in Brooklyn, New York.
 
Paul Daviz is a Blackburn-born illustrator whose style is characterized by big, bold shapes, sweeping lines, strong colors, hints of texture, and plenty of fun. His influences include Soviet matchbox covers and 1970s cinema advertising. After studying graphic design and working as a storyboard visualizer for TV ads, packaging, and print campaigns, Paul moved to freelance illustration, producing work for numerous and diverse clients, including Chanel 4, The Daily Telegraph, HarperCollins, BMW, Ravensburger, and Royal Mail.