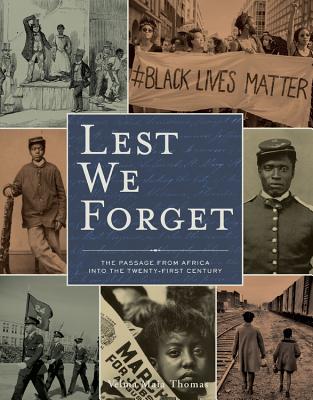 Lest We Forget (Hardcover)
The Passage from Africa into the Twenty-First Century
becker&mayer! Books, 9780760363829, 128pp.
Publication Date: January 15, 2019
Other Editions of This Title:
Hardcover (10/7/1997)
* Individual store prices may vary.
Description
This elegant bind-up of three collectible books by Velma Maia Thomas—Lest We Forget, Freedom's Children, and We Shall Not Be Moved—offers an intimate look at black history in America through the lens of a passionate historian committed to preserving these important accounts, along with related memorabilia.
Based on materials from the nationally acclaimed Black Holocaust Exhibit, Lest We Forget documents the plight of an estimated 100 million Africans, from their rich pre-slavery culture to their enslavement in a foreign land. This book is a collection of stirring historic papers, memoirs, personal effects, and photographs brought to life in a unique, three-dimensional, interactive format. Lest We Forget chronicles the unyielding strength of a people who refused to be broken.
Taste the sweetness of freedom and the bitter struggle for equality through the documents that impacted the lives of an entire race. Freedom's Children is a stirring collection of photographs and removable documents that bring to life the heart-wrenching and inspiring tale of freedmen and freedwomen during Reconstruction and into the twentieth century.
Throughout the twentieth century, African Americans would trouble the waters of America—agitating, challenging, and defying the status quo. We Shall Not Be Moved chronicles the struggles and triumphs of African Americans leading up to and during the Civil Rights Movement. Feel the strength of those entrenched in the fight for justice through interactive, removable documents.
About the Author
Velma Maia Thomas is the author of several nonfiction books on African American history. Maia served as manager of the Shrine of the Black Madonna Bookstore and Cultural Center in Atlanta, Georgia, from 1987 to 2000, where she created the nationally acclaimed Black Holocaust Exhibit, a collection of original documents on slavery in America.
 
A gifted writer and public historian, Maia was one of 100 distinguished Americans selected to contribute to Lift Every Voice and Sing: A Celebration of the Negro National Anthem. She also was selected to write the introduction to Finding a Place Called Home: A Guide to African-American Genealogy and Historical Identity. Her latest work, The Odd Fellow City: The Promise of a Leading Black Town, has been published in the 2012 edition of the Journal of the Georgia Association of Historians. Early in 2012, she served as a subject expert for the PBS documentary, Underground Railroad: The William Still Story, which aired nationally in February. 
 
Maia holds a bachelor's degree in journalism from Howard University, a master's degree in political science from Emory University, and a graduate-level certificate in Heritage Preservation from Georgia State University. She has served as keynote speaker at universities, libraries, and museums across the nation and has served as a distinguished scholar at the historic Penn Center on St. Helena Island, South Carolina. Maia has been interviewed by the New York Times, The Atlanta Journal and Constitution, and the British Broadcasting Corporation.
 
She continues to write, teach, and speak on African American history, using her engaging style to bring history to life.