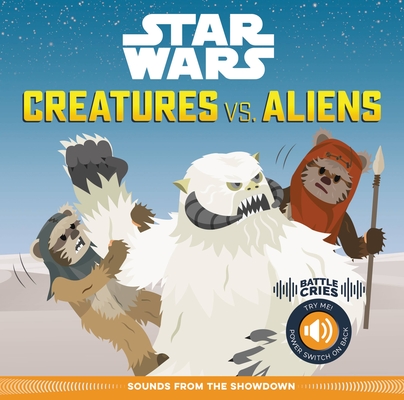 Star Wars Battle Cries
Creatures vs. Aliens: Sounds from the Showdown
Hardcover

* Individual store prices may vary.
Description
Star Wars Battle Cries: Creatures vs. Aliens is an interactive sound book that prompts imaginative play with realistic Star Wars sounds. Can a Wookiee defeat a Sarlacc? Would a band of Ewoks defeat a Wampa?
With bold, original illustrations, each spread lets readers delve into infographic-style facts about each character. Then pit one against the other in five epic hypothetical battles, complete with each character's signature sound effect. Who has enough brains, brawn, or cunning to win? Decide for yourself!   
One-on-one battles include:
Tusken Raider vs. Tauntaun
Geonosian vs. Rancor 
Jawa vs. Rathtar 
Wookiee vs. Sarlacc
Ewok vs. Wampa
Praise For Star Wars Battle Cries: Creatures vs. Aliens: Sounds from the Showdown…
"If you're looking for a fun little book to read with your kids and introduce them to some Star Wars for the first time? You've found your gateway book."
 
- TheForce.net
—
-
becker&mayer! kids, 9780760364048, 24pp.
Publication Date: April 23, 2019
About the Author
A lifelong Star Wars fan and recognized expert on the depth and history of the saga, Pablo Hidalgo started writing professionally on the subject in 1995, penning articles for the original Star Wars role-playing game from West End Games. In 2000, he became a full-time Star Wars authority at Lucasfilm, joining the company's online team as a content developer for the official website. In 2010, he became a Brand Communications Manager for Lucasfilm, ensuring consistency in the expression of the brand across a variety of channels. When Lucasfilm returned to active film production on the Star Wars saga under the leadership of Kathleen Kennedy, Hidalgo moved into the Lucasfilm Story Group as a creative executive working on the development of Star Wars storytelling across all media, including feature films, animated television, video games, novels, comic books, and more. In addition to his numerous published Star Wars works, he has written books about G.I. Joe and Transformers. He lives in San Francisco.
or
Not Currently Available for Direct Purchase