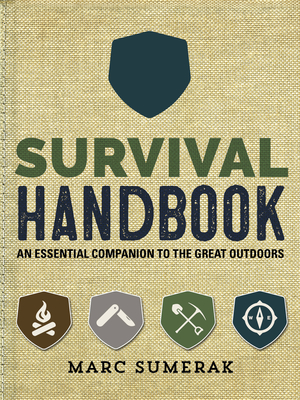 Survival Handbook (Other book format)
An Essential Companion to the Great Outdoors
becker&mayer! kids, 9780760364352, 140pp.
Publication Date: February 26, 2019
* Individual store prices may vary.
Description
Wherever adventure takes you, take this book! Survival Handbook: An Essential Companion to the Great Outdoors includes crucial tips on exactly what you need to know to survive even the most unexpected circumstances. Also included are useful items to help you survive in the wild: reflective stickers, a foldable cup, a reflective sheet, and even a removable string binding!

This illustrated guide shows you how to make a shelter, build a fire, locate clean water, forage for food, avoid deadly animals, protect yourself from bad weather, and find your way back home safely afterward. 

Whether you're lost, hungry, burned, or buried, knowing essential emergency survival skills could literally mean the difference between life and death. Don't go into the wild without this book!
About the Author
Marc Sumerak is an award-nominated author who has spent the last two decades writing books, comics, and video games featuring some of the world's most popular characters. His work has explored the worlds of Marvel Comics, Harry Potter, Ghostbusters, The Walking Dead, Firefly, and many more. He currently resides in Cleveland, Ohio.