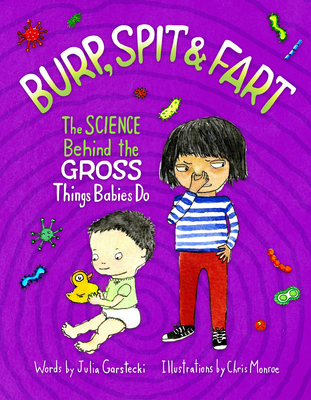 Burp, Spit & Fart
The Science Behind the Gross Things Babies Do
Hardcover

* Individual store prices may vary.
Description
Burp, Spit & Fart: The Science Behind the Gross Things Babies Do answers some of the most pressing questions young readers have about their baby siblings—a companion book to Pick, Spit & Scratch: The Science of Disgusting Habits and Sniff, Lick & Scratch: The Science of Disgusting Animal Habits.

Why does a baby's poop change color as it gets older? How do diapers keep all that pee in? Why do babies have to be burped after eating, and how does burping work, anyway? Do all babies suck their thumbs? And why can they put their toes in their mouths? As with the gross things that other humans and animals do, there's a bit of science behind the strange things that babies do.

Each spread describes a specific habit or behavior, offering multilayered reading opportunities in the form of weird, disgusting facts that ratchet up the gross factor. Weird baby habits are transformed into relatable concepts for kids. In many cases, the author even debunks commonly held myths described and, in the process, shows that babies, though sometimes weird to older kids, are really just in the process of developing into normal kids. When you need immediate answers to questions about specific icky behaviors, use Burp, Spit & Fart's handy glossary and index.

Kids will get a thrill out of exclaiming "Eww!" as they read this book. Parents will love that their children are reading and engaged in scientific inquiry.
Young Voyageur, 9780760364765, 64pp.
Publication Date: March 26, 2019
About the Author
Julia Garstecki is an experienced teacher and author of dozens of nonfiction books for children, including Science in a Jar; Pick, Spit & Scratch; Sniff, Lick & Scratch; and Burp, Spit & Fart. She has also written several parenting pieces for various magazines. Publications include Thrive, Westchester Parent, and Mothering in the Middle. Her humor column "How Did I Get Here" appeared in the Jamestown Gazette.

Julia completed her undergraduate work at Michigan State University, where she earned her degree in Elementary Education while minoring in both English and Biology. Her graduate degree focused on reading instruction and she later earned her certification for special education. She currently teaches writing at Goodwin College.
Chris Monroe is the author of seven children's picture books, including Monkey with a Tool Belt, Monkey with a Tool Belt and the Maniac Muffins, Monkey with a Tool Belt and the Noisy Problem, Monkey with a Tool Belt and the Seaside Shenanigans, Sneaky Sheep, and Bug on a Bike. Her Monkey with a Tool Belt books will be appearing as a Netflix series. Chris is the illustrator of Young Voyageur's Pick, Spit & Scratch, Sniff, Lick & Scratch, and Burp, Spit & Fart. Chris is also the illustrator of picture books by authors Kevin Kling, Jane Yolen, and Janice Levy. Her comic strip, "Violet Days," was retired in 2018 after being in print for 22 years. She lives in Duluth, Minnesota.
or
Not Currently Available for Direct Purchase