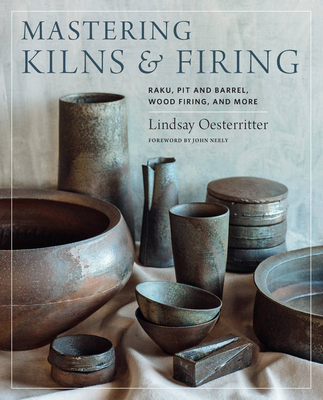 Mastering Kilns and Firing (Hardcover)
Raku, Pit and Barrel, Wood Firing, and More
Quarry Books, 9780760364888, 192pp.
Publication Date: October 22, 2019
* Individual store prices may vary.
Description
Learn the key techniques, tips, and tricks for pit, barrel, raku, and wood firing.

Fall in love with flames, wood, and the effect that unique firing methods have on pottery. Move beyond the electric kiln and explore the dramatic surfaces of raku, the flashes of salt firing, and the rustic look of ash rivulets. In this book, Lindsay Oesterritter provides a crash course in the most accessible methods of alternative firing.

Raku firing requires minimal equipment and can easily be fueled with a standard propane tank. Likewise, pit and barrel firing do not require much in the way of initial investment. Yet all these techniques provide an immediate glimpse into the magic of firing. Bright reds and blues, dramatic black and white crackle, even metallic luster are instantly possible. For more experienced potters and studios looking to offer more, Oesterritter also explores wood-fired kilns. Drawing on years of experience and extensive interviews with fellow wood-fire potters, there is no comparable resource on the market.

Features on top potters working today get to the heart of specialty techniques and asides show firing variations and traditional kilns in different cultures around the world. A gallery of showstopping work from a diverse group of artists round out the package and inspire you to get started.
About the Author
Lindsay Oesterritter is the director of Objective Clay, co-founder and organizer of National Clay Week, and a full-time studio potter. Lindsay earned her MFA from Utah State University in Logan, Utah, held the position of Assistant Professor of Ceramics at Western Kentucky University (2009–2015), and earned Associate Professor in 2015. Lindsay was a resident artist at Arrowmont School of Arts and Crafts in Gatlinburg and in Australia at Strathnairn Arts Association. She lectures and exhibits nationally and internationally, most frequently on wood firing techniques and kiln construction/design, and is continually inspired by the craft community. View her work and workshop schedule at: loceramics.com
Praise For Mastering Kilns and Firing: Raku, Pit and Barrel, Wood Firing, and More…
Mastering Kilns & Firing offers a wealth of knowledge. Oesterritter's dedication both to processes and the community-building they inspire are apparent in her competent writing and echoed in the beautiful guest artist galleries. This text should be a staple of any clay worker's library.
- Elenor Wilson, editor, Studio Potter Journal
Lindsay, a master of deep, rich surfaces, has written a personal, professional, and all-around practical guide to kilns and firing. Her years of teaching and experience as a maker are obvious in this book. It will save you countless hours on your own ceramic journey.
- Simon Levin, potter, kiln builder, and Fulbright Scholar
Lindsay has produced a gorgeous and invaluable book for people with all levels of interest and skill. Clear prose and excellent presentation make this book a page-turner; I repeatedly found myself wondering what exquisite beauty and careful explanation lay ahead.
- Bill Griffith, educator, administrator, and artist, Arrowmont School of Arts and Crafts
Based on her many years of experience as an educator and as a professional potter, Lindsay gives the reader well-informed insight regarding what to consider, how to prepare, and those all-important health and safety concerns when working with kilns and firing.
- Robert Sanderson, co-editor, The Log Book, International Wood-fired Ceramics Publication
Accessible and readable, this book brings clarity and refreshing insight into the often-cumbersome process of wood- and alternative-firings. It is well organized and richly illustrated, covering all the bases.
- Peter R. Beasecker, potter and professor of art, Syracuse University
Potters who are ready to explore new atmospheric firing techniques will find Mastering Kilns & Firing to be an indispensable guide. Lindsay introduces each type of firing from an approachable, collaborative perspective with inspiring examples of contemporary work by a variety of artists. She guides readers so they not only learn the basics needed to achieve success, but also feel empowered to experiment, explore, and have fun.
- Jessica Knapp, editor, Ceramics Monthly