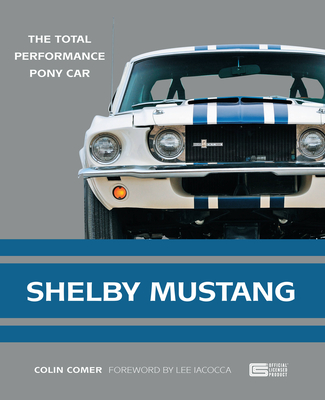 Shelby Mustang (Paperback)
The Total Performance Pony Car
Motorbooks, 9780760365977, 240pp.
Publication Date: October 8, 2019
Other Editions of This Title:
Hardcover (9/23/2014)
* Individual store prices may vary.
Description
Shelby Mustang details the entire story of these fantastic cars, from the early prototypes built in Shelby's Los Angeles shop to today's Ford-engineered high-tech performers.

Written by one of the world's foremost authorities on Shelby automobiles, critically acclaimed author Colin Comer, and with a foreword by Lee Iacocca, the American automobile executive credited with the successful development of the Mustang, this is the definitive account of the Shelby.

When Ford wanted to toughen up its super-successful new Mustang, they approached Carroll Shelby to give it the performance image it so sorely lacked. Beginning with a 1965 "K-Code" 289-cubic-inch-powered Mustang fastback, Shelby applied the same formula that had made his Cobra sports cars such devastating performers both on and off the track: more horsepower, less weight, balanced handling.

The GT350 quickly established itself as a bonafide force in SCCA B-Production racing, twisting back roads, and boulevards alike—setting the course for future Shelby Mustangs, like the big-block GT500. Though those original Shelby Mustangs were done by 1970, Ford dusted off its Shelby relationship in 2006 and has been producing high-performance Ford Mustang Shelbys ever since.

This is a must-have read for any fan of American performance cars, whether you're a muscle-era original or a 21st-century stormer.
About the Author
COLIN COMER is a respected authority on collector cars and a noted champion for the cars, people, and history of Shelby American. Comer's writing is well known from his many years as editor-at-large for Sports Car Market and American Car Collector magazines, an editor for Hagerty magazine, and a contributing editor for Road & Track magazine. Comer has appeared in such diverse publications as the New York Times, Business Week, and USA Today among others. He is the author of the critically acclaimed books Million Dollar Muscle Cars, The Complete Book of Shelby Automobiles, and Shelby Cobra Fifty Years and co-author of The All-American Muscle Car. When not writing about cars, Comer enjoys maintaining his own eclectic collection of vintage cars and is an accomplished racer and pilot. He and his family live in Milwaukee, Wisconsin, or, in Comer's words, "fifty-two miles from Road America."
Praise For Shelby Mustang: The Total Performance Pony Car…
 "...a must-have book it you are, A) a Mustang fan (duh); B) a Shelby Fan (also duh); C) a racing fan; or D) a fan of mid-century cars in general."
- 11/2/2019, Automoblog