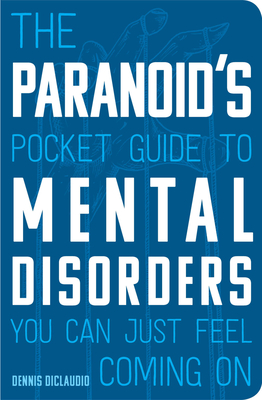 The Paranoid's Pocket Guide to Mental Disorders You Can Just Feel Coming On (Paperback)
becker&mayer! Books, 9780760366301, 208pp.
Publication Date: October 1, 2019
Other Editions of This Title:
Paperback (12/1/2006)
* Individual store prices may vary.
Description
Giving neurotics everywhere something to worry about, The Paranoid's Pocket Guide to Mental Disorders You Can Just Feel Coming On profiles more than 40 of the most outrageous and yet eerily familiar psychological disorders—a fascinating array of obsessions, compulsions, phobias, fixations, and full-blown mental maladies.

Every disorder is well documented, including common symptoms, causes, and treatment options, along with a handy quiz for easy self-diagnosis. And in case you can't tell whether or not you're losing it, each entry includes a sample inner monologue detailing the thought processes at play—because sometimes you don't know you're crazy until you see it in writing. 

Hot on the heels of the equally hilarious The Hypochondriac's Pocket Guide to Horrible Diseases You Probably Already Have, the Paranoid's Guide will have even the most rational thinkers second-guessing their sanity.
About the Author
Dennis DiClaudio is a humor and fiction writer, and also an improvisational and sketch comedian. He has had plays produced for the New York International and Philadelphia Fringe Festivals, is an online writer for Comedy Central, and spent several years in the editorial department of Elsevier, one of the world's largest medical and scientific publishers. He is an expatriate Philadelphian currently living in New York.