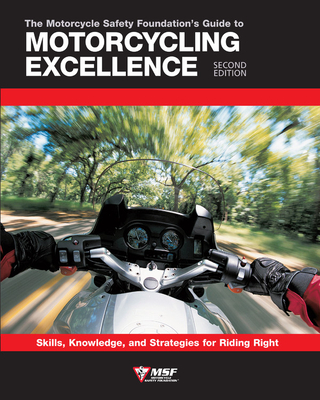 The Motorcycle Safety Foundation's Guide to Motorcycling Excellence (Paperback)
Skills, Knowledge, and Strategies for Riding Right
Motorbooks, 9780760366950, 194pp.
Publication Date: August 13, 2019
* Individual store prices may vary.
Description
This is the book for the motorcyclist who wants to do it right! The Motorcycle Safety Foundation's Guide to Motorcycling Excellence is the most complete and authoritative guide to motorcycle safe-riding techniques and strategies. More than one million students have completed courses developed by the Motorcycle Safety Foundation, and this book is the culmination of what this leading rider-training organization has learned about teaching students of all ages and experience levels. It is the perfect refresher for anyone who has taken an MSF class and it will be an eye-opener for those who have not yet taken a formal training course. In a clear, engaging style with detailed diagrams and extensive full-color photographs and illustrations, the book covers rider attitude, proper gear, basic and advanced street skills, and performance, as well as skill maintenance and troubleshooting. Topics include how to stop quickly when necessary; avoiding traffic hazards; applying evasive maneuvers; countersteering for better control; traveling safely and skillfully in a group; identifying and fixing mechanical problems; riding smoothly at high and low speeds; maintaining momentum in off-highway riding; and much, much more. The Motorcycle Safety Foundation's Guide to Motorcycling Excellence is a remarkable source of riding wisdom and the definitive reference for the sport.