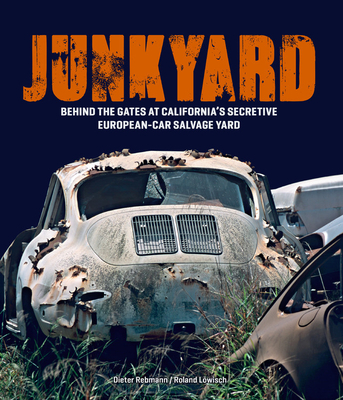 Junkyard (Hardcover)
Behind the Gates at LA's Secretive European-Car Salvage Yard
Motorbooks, 9780760367681, 176pp.
Publication Date: May 12, 2020
* Individual store prices may vary.
Description
Junkyard offers the only known photographic documentation of car collector Rudi Klein's famed stockpile of distraught—but rare and valuable—vehicles from Porsche, Mercedes-Benz, Ferrari, Aston Martin, Maserati, and more.
 
In 1967, Rudi Klein began quietly buying up wrecked, damaged, and worn-out high-end European cars under the business moniker "Foreign Auto Wrecking." Over time, he amassed a stunning collection of treasures. Among the stash is a one-of-one 1935 Mercedes-Benz 500K built for pre-war Mercedes racer Rudolf Caracciola. No one is precisely sure what other prizes rest behind the yard's not-open-to-the-public gates.
 
Some 20 years ago, and after much negotiation, photographer Dieter Rebmann and author Roland Lowisch were permitted rare entrée to the salvage yard's grounds to document its residents.This record of Klein's collection is nothing short of amazing for any classic and collector car enthusiast.
 
Sadly, Rudi passed away in 2001, but the collection remains under the care of his sons, who operate it as elusively as their father, maintaining its decades-long air of mystery and desirability.
About the Author
Roland Löwisch is a German automotive journalist who has written for numerous German and international auto magazines and newspapers including Octane, Christophorous, Playboy, Robb Report, and Audi covering the car world, adventure, travel, motorsport, and lifestyle. He is the author or co-author of eight books.
Dieter Rebmann is a long-time automotive photographer based in Germany. He has clients around the world, including VW, Bose, Bugatti, and Daimler, and has contributed his images to numerous car and motorcycle calendars and books.