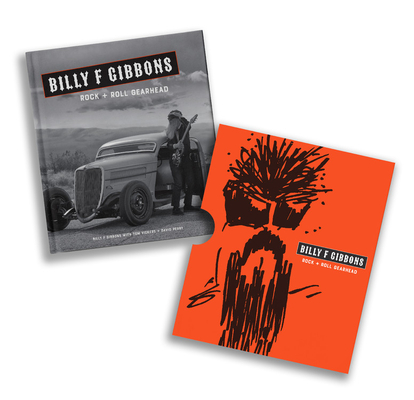 Billy F Gibbons
Rock + Roll Gearhead
Hardcover

* Individual store prices may vary.
Description
Expanded for the occasion of ZZ Top's 50th anniversary, Billy F Gibbons: Rock + Roll Gearhead throws wide Gibbons' garage and studio doors for an exclusive look at his exquisite collection of cars and guitars.
Love cars, guitars, and ZZ Top? This visually stunning tour through this Grade-A Texas gearhead's
weird, wild life
, vintage and way-out
custom guitars
, and influential
hot rods and custom cars
is mandatory education.
From the near-mythical '59 Les Paul sunburst known as "Pearly Gates" and the "Furry One" of MTV renown to cars like the Eliminator, CadZZilla, and Kopperhed, they're all here—
more than 60 guitars
and
15 astounding vehicles
, all expounded upon by BFG himself and shown in
commissioned color and artistic black-and-white photography
. Cars and guitars that have made their way to light since the book's first publication in 2005 are included:  
Cars:
Mexican Blackbird 1958 Thunderbird
Quintana '50 Ford Custom
El Camino Grocery-Getter custom
Whiskey Runner '34 Ford Coupe
'51 Willys Wagon
Guitars:
Party Peelers John Bolin Customs
Neiman Marcus BFG SG
Nacho Telecaster
John Bolin "Think Buck" T-style
Mexican Blackbird solidbody
Mojo Maker
Tone Bender
Zemaitis custom
Marconi Lab Guitar
1929 Dixie Ukelele
1939 Rickenbacker Frying Pan
…and more!
While BFG's cars 'n' guitars are the stuff of legend, no less intriguing are
the tales behind his incredible music career
. From teenage Houston garage rocker to the Rock and Roll Hall of Fame, the whole story is between these covers, told in the Good Reverend Willie G's own words and illustrated with
photos and memorabilia from his personal archive
.
As with many rockers, Billy F Gibbons' jones for hot rods and customs is the stuff of legend. But beyond this bona fide bluesman's mastery of the six-string and unrepentant love for internal combustion is a noted collector whose own designs have manifested themselves in hundreds of mind-bending cars and guitars. This is
the definitive and official record
of that genius.
Praise For Billy F Gibbons: Rock + Roll Gearhead…
"Any fan of cars or guitars will welcome this hefty document . . . staring with envy at Gibbons' gorgeous axes and hipster wheels for hours on end."—Jim DeRogatis, Chicago Sun-Times

"A fascinating look at the history of a great band and Gibbons' life-long twin passions."—Peter Egan, Road & Track

"The cars and the music are part of the same enterprise: creating a shared landscape of the mind, a fantasy land where Mr. Gibbons' music provides a soundtrack for imagined journeys. . . . Many will be happy to ride along."—New York Times

"A love letter to rodded '34 coupes, chopped Cadillacs . . . and assorted customized Gibsons, Fenders, and Magnatones."—Daily Telegraph

"Part tome, part bio, and all definitively Billy."—Vintage Guitar

"Reveals the tales behind dozens of his favorite guitars, and offers the lowdown on 10 of his hottest hot rods. . . . Of course, the book also offers plenty of Gibbons' Texas-fueled pearls of wisdom."—Guitar World

"Billy F Gibbons: Rock + Roll Gearhead is a must for fans of BFG and ZZ Top; guitar collectors, car guys and those who cross over between the two."—Jason Fogelson, Forbes.com

"The book is fantastic. Billy Gibbons is a car guy I would like to know. Five Stars."—Tom Stahler, The Journal at ClassicCars.com
Motorbooks, 9780760367971, 224pp.
Publication Date: June 2, 2020
About the Author
Billy F Gibbons is a musician, actor, and hot rod and car customizer perhaps best known as the lead guitarist for ZZ Top.
Tom Vickers is a longtime music industry pro, having worked as a journalist, manager, A&R man, publicist, and producer.
A renowned photographer residing in the Bay Area, David Perry defined the modern hot rod pin-up in the early 1990s. His other books include Hot Rod Pin-Ups and Hot Rod Kings.