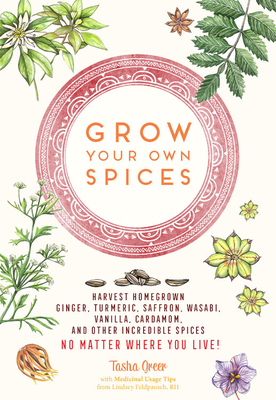 Grow Your Own Spices
Harvest homegrown ginger, turmeric, saffron, wasabi, vanilla, cardamom, and other incredible spices -- no matter where you live!
Hardcover

* Individual store prices may vary.
Description
In Grow Your Own Spices, author and spice-growing gardener Tasha Greer hands you everything you need to know to grow a thriving spice garden, with practical tips and in-depth advice on cultivating over 30 different spices.
Unlike herbs, which consist of the green leaves of certain plants, spices come from the seeds, roots, bark, or berries of plants, which means
growing, harvesting, and preparing spices is a lot more nuanced than growing leafy herbs
. Start with
easy-to-grow seed spices
first, such as sesame seeds, fennel, and cumin, then graduate to
more challenging spice varieties
, such as star anise, cinnamon, and nutmeg.
Spices not only
offer culinary flare
, there's also increasing evidence of their
ability to fight inflammation and reduce various health risks
. Medical usage tips from expert herbalist Lindsey Feldpausch are found throughout the book and offer
well-researched advice on how to use homegrown spices to improve your well-being
.
Regardless of whether you're using spices as
a health-boosting supplement
or simply to
power-up the flavor of your meals
, purchasing spices is an expensive proposition. Why pay all that money when you can
grow your own organic spices
with the easy-to-follow advice found here?   
In the pages of 
Grow Your Own Spices
, you'll learn: 
How to cultivate your own saffron, the world's most expensive spice
The best way to tend tropical spices, like ginger, turmeric, and cardamom, even if you live in a cold climate
Easy-to-grow spices that are perfect for beginners
The unique way certain spices, such as wasabi, cloves, and cinnamon, are grown and harvested
How to cultivate root spices, including horseradish and chicory 
Tips for harvesting your own capers, mustard, sesame seeds, and even paprika
Let 
Grow Your Own Spices
 show you how to
spice up your garden, your plate, and your health,
with your own
fresh, homegrown spices
! 
Praise For Grow Your Own Spices: Harvest homegrown ginger, turmeric, saffron, wasabi, vanilla, cardamom, and other incredible spices -- no matter where you live!…
"...makes a compelling case for the home cultivation of more than 30 types of spices." - Washington Gardener

"I was delighted with this book and considered it great for someone...to broaden their own selection of homegrown spices in their garden." - Budget Earth
Cool Springs Press, 9780760368022, 128pp.
Publication Date: January 5, 2021
About the Author
Tasha Greer is an "epicurean homesteader" and writer focused on simple, sustainable living. She is a contributor to Mother Earth News, The Grow Network, Grit, and Morning Chores. She's also the host of a video educational series on The Grow Network that includes videos on raising backyard chickens and ducks, in addition to a series on raising goats. A former Washington, DC, legal administrator turned full-time homesteader and writer, Tasha's obsession with great food, gardening, and simple living led her to homestead in beautiful Surry County, North Carolina. There she raises goats, chickens, ducks, worms, and more on a 10-acre property with lots of help from her partner in good living, Matt Miles.
About 1.5 acres of her homestead is also covered with fruit trees and bushes, nuts, a personal vineyard, perennial vegetables, herbs, spices, annual vegetables, and some aquaculture. She uses hand tools, organic matter, and a mix of permaculture, edible landscaping, ecological, and traditional gardening techniques to grow abundant food and natural beauty.
Tasha volunteers with gardening organizations in her community and teaches classes related to edible landscaping and organic gardening. In addition, Tasha is a former market farmer, specializing in growing and selling herbs, spices, and mushrooms. 
Greta Moore is an illustrator and landscape designer in Bozeman, Montana. With a M.S in Ecological Landscape Design, she blends her passion for ecology with art to address climate change, improve food systems, restore habitats, create beautiful spaces, and bring plants and animals to life through watercolor paintings. She is also an avid backyard gardener and enjoys adventuring in the mountains and rivers of Montana. To see her work, visit gretacmoore.com.  
Lindsey Feldpausch, RH (AHG) is a clinical herbalist helping connect plants with the humans who need them. She believes in our innate ability to utilize the healing powers of plants, and one of her life's intentions is to kindle this belief in others. An experienced educator, she aims to balance both science and the magic of the natural world within in her teachings. Find out more at PlantMatters.org.