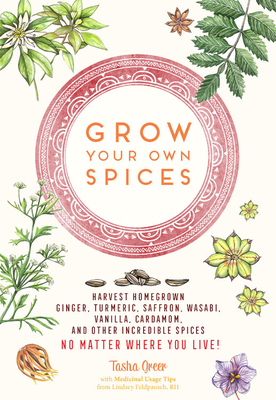 Grow Your Own Spices
Harvest homegrown ginger, turmeric, saffron, wasabi, vanilla, cardamom, and other incredible spices -- no matter where you live!
Hardcover

* Individual store prices may vary.
Cool Springs Press, 9780760368022, 128pp.
Publication Date: January 5, 2021
About the Author
Tasha Greer is an "epicurean homesteader" and writer focused on simple, sustainable living. She is a contributor to Mother Earth News, The Grow Network, Grit, and Morning Chores. She's also the host of a video educational series on The Grow Network that includes videos on raising backyard chickens and ducks, in addition to a series on raising goats. A former Washington, DC, legal administrator turned full-time homesteader and writer, Tasha's obsession with great food, gardening, and simple living led her to homestead in beautiful Surry County, North Carolina. There she raises goats, chickens, ducks, worms, and more on a 10-acre property with lots of help from her partner in good living, Matt Miles.
About 1.5 acres of her homestead is also covered with fruit trees and bushes, nuts, a personal vineyard, perennial vegetables, herbs, spices, annual vegetables, and some aquaculture. She uses hand tools, organic matter, and a mix of permaculture, edible landscaping, ecological, and traditional gardening techniques to grow abundant food and natural beauty.
Tasha volunteers with gardening organizations in her community and teaches classes related to edible landscaping and organic gardening. In addition, Tasha is a former market farmer, specializing in growing and selling herbs, spices, and mushrooms. 
Greta Moore is an illustrator and landscape designer in Bozeman, Montana. With a M.S in Ecological Landscape Design, she blends her passion for ecology with art to address climate change, improve food systems, restore habitats, create beautiful spaces, and bring plants and animals to life through watercolor paintings. She is also an avid backyard gardener and enjoys adventuring in the mountains and rivers of Montana. To see her work, visit gretacmoore.com.  
Lindsey Feldpausch, RH (AHG) is a clinical herbalist helping connect plants with the humans who need them. She believes in our innate ability to utilize the healing powers of plants, and one of her life's intentions is to kindle this belief in others. An experienced educator, she aims to balance both science and the magic of the natural world within in her teachings. Find out more at PlantMatters.org.