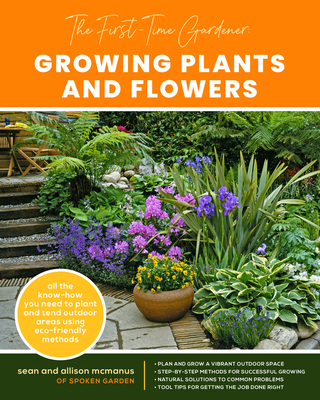 The First-Time Gardener
Growing Plants and Flowers: All the know-how you need to plant and tend outdoor areas using eco-friendly methods (The First-Time Gardener's Guides #2)
Paperback

* Individual store prices may vary.
Cool Springs Press, 9780760368749, 176pp.
Publication Date: February 9, 2021
About the Author
Sean McManus grew up working on his family's rhododendron farm in Washington State. This early training sparked his lifelong passion for horticulture, which he pursued through two degrees at Washington State University, including a Master's in Environmental Horticulture as well as other horticulture, landscaping, and gardening-related certificates. Sean has over 8 years of experience in Industrial Garden Maintenance and 12-plus years of experience operating a private landscape and consulting company. Sean and his wife Allison are the team behind the website, blog, and podcast Spoken Garden. Started as a way to connect with others through their love of science, gardening, and education, Spoken Garden helps people connect with nature through smart, sustainable garden maintenance.
 
Allison McManus is the product of two nature-loving parents who instilled in her a deep love and respect for the natural world. From a very young age, she assisted in garden maintenance tasks around the yard in Washington state. A self-professed "science nerd," she pursued a degree in Exercise Science, always staying in tune with her love of the natural world. Currently, Allison is a National Board-Certified Science Educator. She taught eighth grade science for 13 years before shifting her focus to Spoken Garden full time in June 2019.