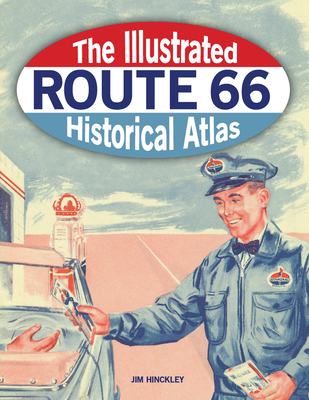 The Illustrated Route 66 Historical Atlas
Paperback

* Individual store prices may vary.
Description
The definitive, fully illustrated state-by-state atlas of the shifting alignments, historic sites, and current points of interest along the United States' beloved Route 66.
Route 66 changed immensely in the six decades between its opening in 1926 and its removal from the U.S. highway system in 1985. Since that time, Route 66 has enjoyed a renaissance, and interest in America's Mother Road as both a historical byway and a travel destination continues to grow. In this unprecedented volume, prolific Route 66 author Jim Hinckley presents an illustrated Route 66 atlas that explores the road's history from its inception into the present day. The Illustrated Route 66 Historical Atlas features sections on eight U.S. states that include points of interest along or near Route 66, divided into six categories: pre-1926 historic sites (such as Lincoln's home and presidential library); noteworthy landmarks; the locations of infamous crimes and disasters; parks of interest; key sites in Route 66's evolution (such as Hooker's Cut, Missouri, an engineering marvel when completed); military-specific sites (including Civil War battlefields and POW and internment camps); historic attractions from the road's midcentury heyday (such as Little Beaver Town and Geronimo's Trading Post); film-related sites; and locations important to Route 66's modern resurgence. Illustrated with photography and memorabilia, The Illustrated Route 66 Historical Atlas is a unique, colorful, and visually dynamic look at 500 of the Mother Road's most significant sites from the past and today.
Praise For The Illustrated Route 66 Historical Atlas…
"a...straighforward source of information on Route 66..." - RV Life
"I don't hesitate to recommend it, based on Hinckley's earlier books..." - RV Life
Voyageur Press, 9780760368770, 240pp.
Publication Date: January 7, 2020
About the Author
Jim Hinckley is the author of twenty books and hundreds of feature articles on Route 66, the American Southwest, and the American auto industry. He has been a featured speaker at European Route 66 festivals in Germany and the Czech Republic, and at events in the United States and Canada. Hinckley is a former associate editor for Cars & Parts, and currently writes a monthly feature for New Zealand-based MotoringNZ. He also assists with the creation of visitor guides for communities such as Tucumcari, New Mexico, and the development of historic district walking tours. Jim is the creator of the Jim Hinckley's America network that includes a website (jimhinckleysamerica.com/), social media, the weekly livestream "Coffee with Jim" program, a YouTube channel, and the "Wake Up with Jim" podcast. Linked with this are community education programs developed to foster an increased awareness of an area's history and its role in the development of tourism as a component in economic development.