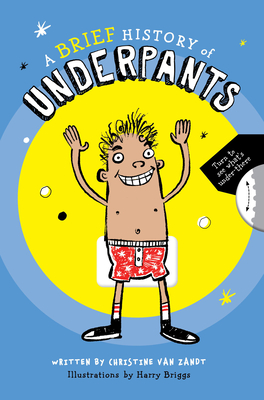 A Brief History of Underpants
Paperback

* Individual store prices may vary.
Description
From bloomers to boxers, everyone wears underwear! One part humor, one part history, A Brief History of Underpants explores the evolution of fashion's most unmentionable garment.
Gain a whole new understanding of underthings as you:
Learn which ruler was buried with over 100 pairs of underwear.
Discover how people kept their underclothes from falling off before elastic was invented.
Find out why some underwear was made from feathers.
And much, much more!
Zany illustrations
add to the humor, and step-by-step instructions teach real dyeing and washing techniques used hundreds of years ago. Interact with the topic directly by turning the
reveal wheel on the front cover
to see underwear evolve through the ages.
Praise For A Brief History of Underpants…
"I laughed my butt off! Not only is this book funny, but Christine Van Zandt delivers a veritable wedgie-whirlwind of utterly fascinating underwear info!"—Aaron Reynolds, New York Times bestselling author of Creepy Pair of Underwear

Leaving no double entendre unturned, Van Zandt chronicles tushie-wear from the "beginning of buns" onward—Booklist

Humorous illustrations and bouncy text keep the pages turning quickly in this lightweight history,—School Library Journal

Does your child show curiosity about underwear? It is a piece of clothing that is part of everyday life but can sometimes be taboo to talk about. "A Brief History of Underpants" by Christine Van Zandt breaks down this barrier with a book on the history of underwear from all over the world. It exposes kids to different cultures and customs by observing the evolution of fashion's most unmentionable garment. The illustrations by Harry Briggs bring this to life, providing exciting visuals on what the different types of underwear looked like and how they were worn. It's part history and part humor, giving a new way to learn about innovations around the globe. This book also includes fun activities like how to make a Fundoshi, underwear worn by Japanese sumo wrestlers, which brings an interactive take to underpants history.
 —L.A. Parent
becker&mayer! kids, 9780760370605, 48pp.
Publication Date: June 1, 2021
About the Author
Christine Van Zandt is an author, editor, and book reviewer who lives in California with her family.