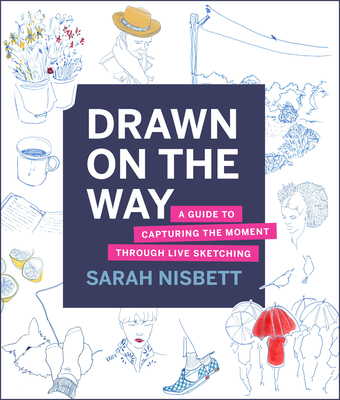 Drawn on the Way
A Guide to Capturing the Moment Through Live Sketching
Paperback

* Individual store prices may vary.
Description
Learn to observe the world more deeply—with curiosity, empathy, and joy—as you sketch the stories unfolding all around you.
In Drawn on the Way, Sarah Nisbett shares her techniques for creating captivating line drawings that capture the moments and moods that you encounter on the train, in a café, outdoors, anywhere: a young woman lost in thought, a pair of hands clasped on a lap, a peppy beagle, a pair of jeans-clad crossed legs. Sarah invites you to see the people, animals, places, and objects you draw with compassionate curiosity—as more than a stranger or inanimate object, but as someone or something with a story worth knowing or imagining.
Even if you are inexperienced at drawing or don't consider yourself an artist, you can learn how to create sketches from start to finish employing techniques such as contour drawing, using line work to add texture, and adding spot color—and discover how each sketch tells a story. You'll begin to focus on important details that reveal something about the subject you're drawing: the graceful drape of a hand over a purse, the shy way someone tucks their feet underneath them.
As you unplug, set aside perfectionism, and explore the world through drawing, you'll learn:
How to translate what you see into a compelling drawing
How to silence your inner critic and find joy in drawing what captures your interest
Techniques for drawing figures and creating quick portraits
How to find the emotion in objects by asking questions
How to draw scenes and backgrounds without becoming overwhelmed
How to quickly and expressively render the natural world, including plants and animals
How key details can take a sketch from plain to captivating
Ways to find the extraordinary in the everyday
How to transform mistakes into likeable elements
Tips for becoming a visual storyteller
Life lessons learned from years of live drawing
We spend most of our lives on the way, rushing and running from place to place, task to task. When we have a spare minute, we usually reach for our phones and shut everything else out. The techniques, projects, and ideas in
Drawn on the Way
are designed to
help you be more mindful about drawing
, to
capture the people, places, and things you encounter each day
. By doing that, you'll connect with humanity in a deeper, more meaningful way—and discover a lot about yourself.
Praise For Drawn on the Way: A Guide to Capturing the Moment Through Live Sketching…
"Open Drawn On the Way and you'll swear you're getting a secret glimpse into an artist's sketchbook. Each page is embellished with sweet sketches and handwritten notes from author Sarah Nisbett and as a bonus, is rich with tips to start your own sketchbook. Nisbett offers wisdom from her sketching practice and gently encourages us to begin by centering curiosity, empathy, and wonder—qualities that will also serve our daily lives. She reminds us to follow joy, be kind to ourselves, and stay curious about the world and our place in it."—Mindful Magazine
Quarry Books, 9780760370728, 128pp.
Publication Date: December 21, 2021
About the Author
Sarah Nisbett is a self-taught live sketch artist and illustrator who loves drawing the people, fashions, pets, and animals that she encounters on the way.
A former opera singer, Sarah has a bachelor's degree in art history from the University of Michigan and a master of music degree in vocal performance from Westminster Choir College in Princeton, NJ. After a successful career as an opera singer, she worked in advertising, and now pursues art full time as an illustrator and live sketch artist.
Drawn on the Way, her website and Instagram account, began while Sarah was commuting on the F train in New York City one evening in 2012, and decided to draw a fellow passenger who captured her attention. Sarah often gives her sketches to the person she's drawn, believing that this small act of sharing brings joy.
Website: drawnontheway.com