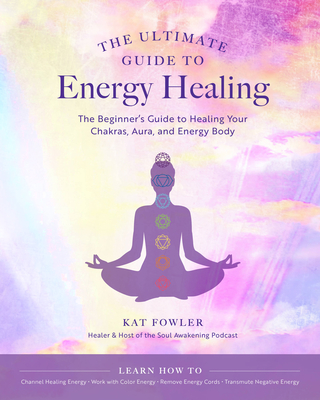 The Ultimate Guide to Energy Healing
The Beginner's Guide to Healing Your Chakras, Aura, and Energy Body (The Ultimate Guide to... #14)
Paperback

* Individual store prices may vary.
Description
The Ultimate Guide to Energy Healing demystifies energy healing styles and practices and offers accessible techniques that you can use immediately for healing and self-care.
The popularity of energy healing is
surging as people seek out alternative means of healing and wellness. While popular, energy healing can be intimidating to many, as it sits at the intersection of the scientific and the spiritual.
The Ultimate Guide to Energy Healing
offers
an understandable and practical approach to energy healing
. Learn how to:
Develop energetic sensitivity
Work with auras and energy fields and protect your space
Clean and balance chakras
Remove energy blocks and cords
Do light body and DNA activation
Techniques for the beginner, intermediate, and more advanced practitioners are included. Detailed information on
chakras and energetic anatomy
is covered as well as supplemental tools and techniques such as
color healing
and using
crystals
,
pendulums
, and
sound
.
The techniques offered in this book are a fusion of many methods thus enabling practitioners to
get the best from each method of energy healing
and incorporate the practice into everyday life and adjunctive practices such as meditation or yoga.
The Ultimate Guide to… series
offers comprehensive beginner's guides to discovering a range of mind, body, spirit topics, including tarot, divination, numerology, witchcraft, chakras, aromatherapy, and more. Filled with beautiful illustrations and designed to give easy access to the information you're looking for, each of these references provides simple-to-follow expert guidance as you learn and master your practice.
Praise For The Ultimate Guide to Energy Healing: The Beginner's Guide to Healing Your Chakras, Aura, and Energy Body (The Ultimate Guide to... #14)…
"Kat has created a masterpiece that has a permanent spot on my nightstand for the foreseeable future. Through laying the foundations and core ingredients of what healthy energy is, beautifully illustrated visual cues, and digestible step by step instructions, her book empowers us to take control of our lives, our energy and to be at peace with where we are on our spiritual journey. This is the ULTIMATE guide to energy healing and a divine gift from Kat and her amazing spiritual team."—Shelly Marshall, Founder of Beauty Shamans Skincare, BSN, RN, LE

"A powerhouse read! Kat Fowler's expansive knowledge and training from multiple schools of thought in the healing arts shine through in this practical, tangible and digestible guide to healing one's self as well as others. Whether you are just beginning to delve into energy healing and its benefits, or are a seasoned healer looking to enhance your practice, this book will be a resource you return to time and again."—Kerry McVey, L.Ac., LMT

"In my years as a Holistic Health Coach, I came to find that the energetic body is where we need to start when healing physical dis-ease. Kat is uniquely gifted at breaking down high level energetic concepts into layman's terms for the beginner. I dreamt of the day when the mind and soul became just as significant as the physical body, and this book is a huge leap towards that."—Stephanie Powers, Host of Lightworkers Lounge Podcast

"The energy body is a neglected and yet critical component of our health wellness. Kat has created a valuable resource for those new experienced with this work and provides a wealth of information to guide you along the process in your journey toward vibrant health."—Tiffany Cruikshank, founder of Yoga Medicine® and author of Optimal Health for a Vibrant Life & Medi

"Captivating, clear, adventurous, and light-hearted--an epic journey through the ins and outs of energy and a discovery of your healing powers with loving guidance from the incredible Kat Fowler. Kat has that magical way of making the most complex matters effortlessly understandable, so you can truly absorb all of the mind-blowing information each page holds. From her masterful breakdown of the "anatomy of energy" to how to perform "psychic surgery" and establish "energetic hygiene," there are tips and treasures to be found at every turn. This is a book that you will be lucky to have by your side, and you will want to come back to time and time again."—Alison Ragusa, creator of Bogavia Beauty of the Adriatic
Fair Winds Press, 9780760371756, 184pp.
Publication Date: February 1, 2022
About the Author
Kat Fowler is a light worker and an international teacher, speaker, and author on spirituality and meditation. She is the host of The Soul Awakening Podcast as well as an advanced Energy Therapist, Akashic Records reader, and Reiki Master Teacher. Kat has completed thousands of hours of training and spent over a decade teaching and mentoring students. She leads online training certification programs in various topics such as Reiki, Meditation, Crystal Therapy, and the Akashic Records. Her life's work is dedicated to raising the frequency of the collective through sharing spiritual practices to help people discover the truest wisdom of their Highest Self.