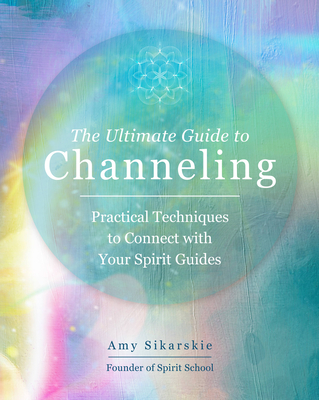 The Ultimate Guide to Channeling
Practical Techniques to Connect with Your Spirit Guides (The Ultimate Guide to... #15)
Paperback

* Individual store prices may vary.
Description
Channeling is the ability to communicate with angels, spirit guides, ascended masters, and beings in spiritual realms. The Ultimate Guide to Channeling teaches you how to develop this advanced intuitive skill with precision and safety.
Expert author and Spirit School founder, Amy Sikarskie, will guide you through:
The different styles of channeling
How to connect with your personal group of guardian angels and spirit guides
The different chakras and clair senses
How to use your natural intuitive abilities to perceive spiritual messages with accuracy
How to integrate other divinatory tools such as oracle cards and sound into your channeling practice
You will also find valuable
tools and techniques for energetic hygiene
so that channeling can be done safely and accurately. Learn how to discern rogue and imposter spirits and clear energy after a channeling session.
Take your intuitive abilities to new heights
with
The Ultimate Guide to Channeling
.
The Ultimate Guide to… series
offers comprehensive beginner's guides to discovering a range of mind, body, spirit topics, including tarot, divination, numerology, witchcraft, chakras, aromatherapy, and more. Filled with beautiful illustrations and designed to give easy access to the information you're looking for, each of these references provides simple-to-follow expert guidance as you learn and master your practice.
Praise For The Ultimate Guide to Channeling: Practical Techniques to Connect with Your Spirit Guides (The Ultimate Guide to... #15)…
"A must read for anyone who wants to learn how to connect with the spirit world in great detail. Amy's knowledge of the outer realms is extensive, easy to understand and provides the reader with a safe space to explore their own magic. This book is a wonderful spiritual tool for anyone - beginner or experienced who wishes to embark on a deeper understanding of their angelic team who are guiding them on their journey. Amy's book creates beautiful and high vibrational energy with practical tools to teach you how to channel with safety and confidence."
—
Phoebe Garnsworthy, Author, Meditation Teacher and Life Coach
"The Ultimate Guide to Channeling is a wonderful book to introduce and offer tips on the many types of channeling available. You'll walk away with more trust in your intuitive powers to begin your communicative flow with the divine!"
—
Sahara Rose, best-selling author + podcast host
"Beautifully illustrated throughout, The Ultimate Guide to Channeling: Practical Techniques to Connect With Your Spirit Guides is and essential and thoroughly 'user friendly' instruction guide and manual for anyone aspiring to communicate with supernatural and extraterrestrial beings."
—
Midwest Book Review
Fair Winds Press, 9780760371770, 192pp.
Publication Date: February 8, 2022
About the Author
Amy Sikarskie is a Licensed Vocational Nurse, Past Life Hypnotherapist, Reiki Master, Channel, and the owner of Spirit School, an online school for psychic and energetic training and development.