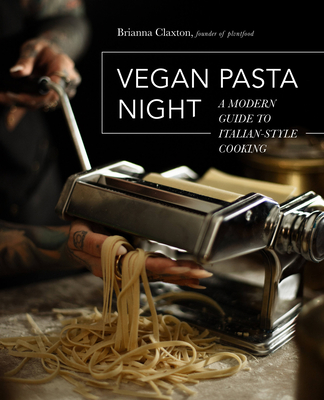 Vegan Pasta Night
A Modern Guide to Italian-Style Cooking
Hardcover

* Individual store prices may vary.
Description
Vegan Italian? Now that's amore! From simple Cacio e Pepe to Fettucine with Chanterelle Mushrooms & Shitake Bacon, join chef Brianna Claxton for vegan recipes that will show you a whole new way to eat Italian.

Start by learning how to make a variety of pastas from scratch. Whether you want straightforward semolina dough or more creative fare like activated charcoal "squid ink" pasta, you'll learn how to do it. Brianna also covers techniques for filled pastas and shaped pasta.

Then move on to complete recipes and techniques for the vegan cheeses and meats that are essential for cooking Italian. With amazing vegan versions of staples including parmesan, mozzarella, and prosciutto, you can make these and more delectable Italian eats:

– Baked Pasta: Sausage and Ricotta Stuffed Shells, Lasagna Bolognese, Cavatappi with Vodka Sauce, Penne Arrabiata Parmesan, Creamy Garlic Rigatoni, Cavatelli with Sausage Cherry Tomatoes and Broccoli Rabe, Spaghetti Parmesan, Orecchiette and Pesto Cream with Walnut Crumble

– Fancy Pasta: Pancetta and Pea Linguine, Roasted Fennel and Sausage Rigatoni, Sweet Potato Gnocchi with Brown Butter and Sage, Short Rib Ragu with Ricotta and Pappardelle, Fall Provencal Pasta, Sundried Tomato Pesto Gnocchi, Kale Alfredo with Chorizo and Farfalle, Carbonara, 20 Clove Garlic Penne, Conchiglie and Sweet Pea Alfredo

– Filled Pasta: Beet and Mushroom Tortellini, Butternut Squash Ravioli with Brown Butter, Sage, and Candied Hazelnuts, Ricotta and Chicken Sausage Ravioli with Marsala Cream Sauce, Sundried Tomato Ricotta Agnolotti, Pistachio and Spinach Anolini, Lobster Ravioli with Mascarpone Cream

– Breads and Spreads: Caramelized Onion and Goat Cheese Focaccia, Homemade Butter, Compound Butters, Roasted Garlic Bread, Rustic Italian Bread, Bruschetta, Caponata, Pestos

– Other Italian Mains and Sides: Fennel Gratin, Ratatouille, Wild Mushroom and Sage Risotto, Insalata Mixta with Lemon Poppyseed Vinaigrette, Caprese Salad, Cured Olives with Rosemary and Citrus, English Pea Arancini, The Perfect Charcuterie Board, Stuffed Banana Peppers, Calamari

Whether you are a vegan longing for your Italian favorites or a plant-based eater or flexitarian interested in reducing your dependence on animals, The Vegan Italian Kitchen will become a go-to resource for both weeknight meals and special occasion dishes.
Harvard Common Press, 9780760372937, 200pp.
Publication Date: September 6, 2022
About the Author
Brianna Claxton is the chef and creative force behind Plvntfood, built on the understanding that food is art. While vegan food has, in some circles, inherited the reputation of being boring rabbit food, Brianna takes it in the other direction with mind-blowing flavors and possibilities. Her mission is to heal, inspire, tease, delight, and encourage the exploration of new cuisines. Brianna learned to cook from her Italian grandmother and continues to rework, veganize, and refine the recipes that were passed down to her. These family recipes feature an array of colors and textures and often form the centerpiece of a full vegan table.
 
Brianna has been featured by a variety of outlets and events, including an appearance on Amazon Prime's High Cuisine, and a signature appearance at Eat Drink Vegan Festival, where Brianna/Plvntfood had a signature dish. She has appeared in or has written for Peta, Mercy for Animals, Veg News, Chickpea magazine, and PBN Food (by Plant Based News).