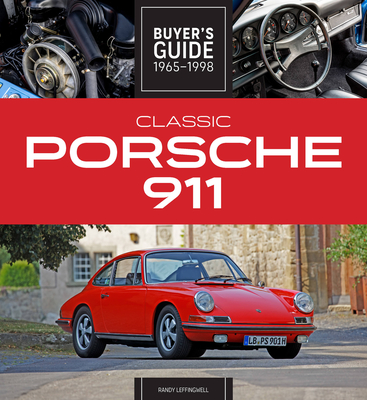 Classic Porsche 911 Buyer's Guide 1965-1998
Paperback

* Individual store prices may vary.
Description
Detailed purchase advice for Germany's premier classic sports car—the Porsche 911.
The Porsche 911 is one of the finest and most important sport cars ever made. These fantastic machines have become top-level collectibles, making it more important than ever to fully understand the car you are considering buying. Don't let your dream car turn out to be your greatest regret. Arm yourself with the knowledge necessary to purchase with confidence.
Randy Leffingwell's Classic Porsche 911 Buyer's Guide 1965-1998 is the most comprehensive resource available to guide you past the potential pitfalls in your pursuit of Stuttgart's classic sports car. This year-by-year guide will help you select the model and year that best aligns with your ownership goals. You'll learn which features you want, which to avoid, and the known flaws from across all the air-cooled generations.
Detailed text for each model year is accompanied by:
Technical specifications
Typical parts costs
Performance ratings
An invaluable "Garage Watch" feature calling out common and known faults
Classic Porsche 911 Buyer's Guide 1964-1998
is an invaluable resource in
finding the perfect classic 911 for your garage!
Praise For Classic Porsche 911 Buyer's Guide 1965-1998…
"And so, this amazingly-detailed and thoughtfully-written guide is hereby quite STRONGLY recommended reading (and heeding) for anyone who is even half day-dreaming about buying a classic era1965-1968 Porsche 911."—LACar.com
Motorbooks, 9780760377192, 240pp.
Publication Date: July 5, 2022
About the Author
Randy Leffingwell wrote his first book, American Muscle, in 1989 while still on staff at the Los Angeles Times. Since then, he has authored more than 50 other titles, covering subjects from sports cars to motorcycles to farm tractors. Leffingwell is considered one of the top transportation photographers and historians working today. Some of his previous best-selling Motorbooks titles include Art of the Corvette, Porsche 911: Fifty Years, John Deere: A History of the Tractor, and The Harley-Davidson Motor Co. Archive Collection (with Darwin Holmstrom). He lives in Santa Barbara, California.