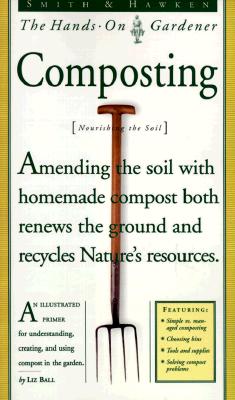 Smith & Hawken (Paperback)
Hands On Gardener: Composting
Workman Publishing Company, 9780761107323
Publication Date: January 2, 1998
* Individual store prices may vary.
Description
Composting begins with the least-maintenance method--pile up dead leaves and grass trimmings in a corner of the yard and let nature do its work--and graduates to those methods that require more involvement but also yield greater and faster results. It covers materials suitable for compost; how to achieve the proper balance of carbon, nitrogen, water, and air for fastest decomposition; how to monitor and adjust the pileís heat; as well as common problems and what to do about them.
About the Author
Liz Ball is the author and photographer of eight garden books, including Rodale's Garden Problem Solver series. Her articles and photographs have appeared in numerous catalogs, magazines and books. A regional director of the Garden Writers' Association of America, she lives and gardens outside Philadelphia, PA.
Praise For Smith & Hawken: Hands On Gardener: Composting…
"The Complete Compost Gardening Guide glories in the details – where to get good sawdust and coffee grounds, the pluses and minuses of a whole range of animal manures, what plants grow best in what sorts of compost – as it provides countless tips for making and using compost in dozens of different ways."
Book Page
"Pleasant and Martin have combined their years of gardening experience thoughtfully and convincingly. Gardening readers will wonder why it took so long to figure out that composting is at the heart of the fruits and flowers."
ForeWord
"Pleasant and former garden book editor Martin here provide both a reference guide and an introduction to composting.... Essential reading for any gardener interested in composting."
Library Journal
or
Not Currently Available for Direct Purchase