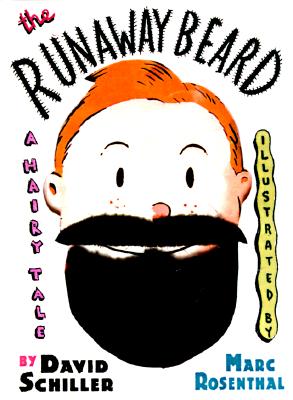 The Runaway Beard
A Hairy Tale
Hardcover

* Individual store prices may vary.
Description
Illustrated by Marc Rosenthal. An old-fashioned hairy tale. The time has come. Dad's decided to shave off his Beard. But the Beard refuses to go. Escaping glinting razor, swirling bowl, and gurgling drain, the Beard launches itself off Dad's face and onto the nearest chin--the baby's! And so begins an inspired story of a Beard, a boy named Jack, and their misadventures in trying to find the Beard a new home--on Jack's face, decorating his sister's Barbie doll, on the dog's chin, camouflaging itself on a book about Lincoln. Written in deadpan narrative by David Schiller, author of The Little Zen Companion ("Where does a beard go when you shave it off?" might be a Zen koan), and illustrated with energetic high humor by Marc Rosenthal in a style reminiscent of old comics, The Runaway Beard is a hairy tale about finding your place in the world. And to help kids play along, the book comes with its own kid-size costume beard on an elastic string, packaged in the see-through die-cut front cover. Will the Beard ever find happiness? Just wait until Jack's bald uncle pays a visit--and Jack gets an idea. For ages 2-6.
Workman Publishing Company, 9780761113591, 32pp.
Publication Date: October 1, 1998
About the Author
Marc Rosenthal has illustrated many children's books, most recently Yo, Aesop: Get a Load of These Fables (Simon & Schuster) and First, Second (Farrar, Straus). His illustrations also appear in The New Yorker, The New York Times, and other national publications. He lives with his family in Lenox, Massachusetts.
David Schiller is an author of eclectic interests whose books include The Little Zen Companion, All-American Carioke, and The Runaway Beard. He lives in Montclair, New Jersey, with his wife, three children, and (only) three guitars.
or
Not Currently Available for Direct Purchase