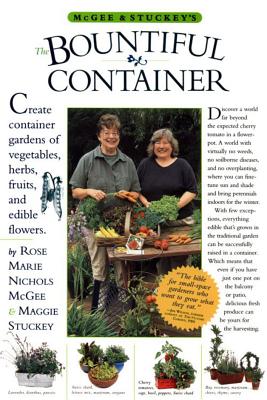 McGee & Stuckey's Bountiful Container (Paperback)
Create Container Gardens of Vegetables, Herbs, Fruits, and Edible Flowers
Workman Publishing Company, 9780761116233, 448pp.
Publication Date: February 1, 2002
* Individual store prices may vary.
Description
With few exceptions-such as corn and pumpkins-everything edible that's grown in a traditional garden can be raised in a container. And with only one exception-watering-container gardening is a whole lot easier. Beginning with the down-to-earth basics of soil, sun and water, fertilizer, seeds and propagation, The Bountiful Container is an extraordinarily complete, plant-by-plant guide.

Written by two seasoned container gardeners and writers, The Bountiful Container covers Vegetables-not just tomatoes (17 varieties) and peppers (19 varieties), butharicots verts, fava beans, Thumbelina carrots, Chioggia beets, and sugarsnap peas. Herbs, from basil to thyme, and including bay leaves, fennel, and saffron crocus. Edible Flowers, such as begonias, calendula, pansies, violets, and roses. And perhaps most surprising, Fruits, including apples, peaches, Meyer lemons, blueberries, currants, and figs-yes, even in the colder parts of the country. (Another benefit of container gardening: You can bring the less hardy perennials in over the winter.) There are theme gardens (an Italian cook's garden, a Four Seasons garden), lists of sources, and dozens of sidebars on everything from how to be a human honeybee to seeds that are All America Selections.
About the Author
Maggie Stuckey is a writer who grows vegetables and cooks up a storm in her Portland, Oregon, home. The author of Soup Night, The Bountiful Container and seven other books on gardening and horticulture, she is happiest when tending her vegetable garden and using the outcome to create new soups.