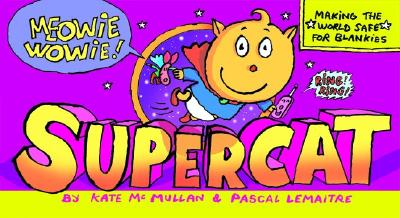 Supercat (Board book)
Workman Publishing Company, 9780761126447, 32pp.
Publication Date: June 17, 2002
* Individual store prices may vary.
Description
Hooo-ray! Meowie Wowie! Glug Glug Glug and Glig Glig Glig! Introducing the first superhero for babies and toddlers! Marrying comic book with board book into a format just the right size to fill a lap, Supercat chronicles the super adventures of Supercat, who flies from his home in the Milky Way to make the world safe for blankies.

With sidekick Super Mouse, Super Phone, Super Milk, and the Cow Who Jumps Over the Moon, Supercat is all set to rescue babies everywhere. Blanket lost? Baby refuses to put on pajamas?? Too many tears to go to bed??? No problem-Supercat knows just what to do. Funny, fast-moving, thoroughly charming, and adorable, Supercat is high entertainment for the youngest audience, and just as much fun for the parents who will be doing the reading. Kate McMullan's sweet story is full of comic-book style, of "Super!" this and "Super!" that, "Oof!" and "Zooooop-zip!" And Pascal Lemaitre's illustration, is inventive, expressive, energetic, and colorful. The collaboration has everything to catch a baby's or toddler's imagination and get parents to fall in love with bedtime reading all over again.
About the Author
Pascal Lemaitre is the illustrator of several books for children including The New York Times bestseller Who's Got Game? (written by Toni Morrison), Do Not Open This Book!, and Supercat. His work also appears regularly in The New Yorker,The New York Times Book Review, and Time. He and his family divide their time between New York City and Brussels.

Kate McMullan has written more than 100 books for children, including I Stink!, I'm Dirty!, I'm Bad!, the Dragonslayer's Academy series, Nutcracker Noel, Hey, Pipsqueak!, and, of course, the original Supercat. She and her husband, the illustrator James McMullan, live in New York City and Sag Harbor, New York.

or
Not Currently Available for Direct Purchase