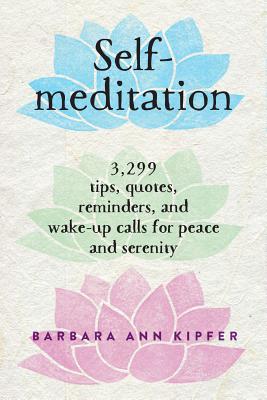 Self-Meditation (Paperback)
3,299 Tips, Quotes, Reminders, and Wake-Up Calls for Peace and Serenity
Workman Publishing Company, 9780761139287, 432pp.
Publication Date: August 1, 2006
* Individual store prices may vary.
Description
Don't self-medicate—self-meditate. In a book of thousands of entries, written in the abundant, winningly positive way that's helped her books sell over 1.5 million copies, Barbara Ann Kipfer shows just how we can—and should—meditate anytime, anywhere, and reap the ever-growing list of mental and physical benefits associated with this practice.

Created by the author who brought us 14,000 Things to Be Happy About, Instant Karma, 8,789 Words of Wisdom, and The Wish List, Self-Meditation is a compulsively readable, instantly accessible list of hundreds of meditation suggestions that can be done during the course of our daily lives. You don't need to go to a mountain retreat, renounce meat, or struggle in any way. 

Here is where you'll find a meditation to have with a cup of tea. A waiting-in-line meditation. Meditations while reading, eating, doing sit-ups, working, shopping, or finding yourself stuck in traffic. There are breaths to take and praises to give, and throughout, ways to slow down and finally smell the roses—or hear the crickets—or see the stars. Drawn from spiritual practices as varied as Zen, yoga, and insight meditation, it's a delicious spiritual tonic that includes meditation basics, explanations, mantras, tips, and more. A completely portable guide, updated to provide inspiration for all the ways we meditate today.  Now, at any moment of the day or night, we can all catch our inner breath.
About the Author
Barbara Ann Kipfer is the author of numerous Workman books including 14,000 Things to be Happy About. She is a lexicographer and author whose many works include thesauri and other reference books, spiritually themed books, and list books. She lives in New England. Her website is thingstobehappyabout.com.