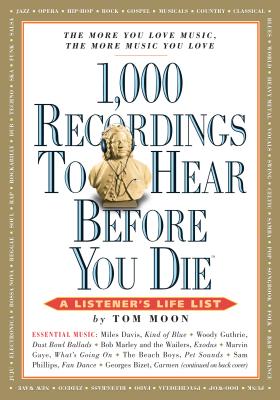 1,000 Recordings to Hear Before You Die
Paperback

* Individual store prices may vary.
Other Editions of This Title:
Hardcover (9/26/2008)
Description
The musical adventure of a lifetime. The most exciting book on music in years. A book of treasure, a book of discovery, a book to open your ears to new worlds of pleasure. Doing for music what Patricia Schultz—author of the phenomenal 1,000 Places to See Before You Die—does for travel, Tom Moon recommends 1,000 recordings guaranteed to give listeners the joy, the mystery, the revelation, the sheer fun of great music.

This is a book both broad and deep, drawing from the diverse worlds of classical, jazz, rock, pop, blues, country, folk, musicals, hip-hop, world, opera, soundtracks, and more. It's arranged alphabetically by artist to create the kind of unexpected juxtapositions that break down genre bias and broaden listeners' horizons— it makes every listener a seeker, actively pursuing new artists and new sounds, and reconfirming the greatness of the classics. Flanking J. S. Bach and his six entries, for example, are the little-known R&B singer Baby Huey and the '80s Rastafarian hard-core punk band Bad Brains. Farther down the list: The Band, Samuel Barber, Cecelia Bartoli, Count Basie, and Afropop star Waldemer Bastos.

Each entry is passionately written, with expert listening notes, fascinating anecdotes, and the occasional perfect quote—"Your collection could be filled with nothing but music from Ray Charles," said Tom Waits, "and you'd have a completely balanced diet." Every entry identifies key tracks, additional works by the artist, and where to go next. And in the back, indexes and playlists for different moods and occasions.
Workman Publishing Company, 9780761139638, 992pp.
Publication Date: August 28, 2008
About the Author
Award-winning music journalist Tom Moon is a regular contributor to National Public Radio's All Things Considered as well as Rolling Stone, Blender and other publications. During his twenty-year tenure as a music critic at the Philadelphia Inquirer, his writings appeared in hundreds of daily newspapers and magazines. A saxophonist, Moon began his career as a professional musician, working in assorted rock bands, cruise ship orchestras, and Maynard Ferguson's big band. He lives with his wife, daughter, two dogs and thousands of CDs in Haddonfield, New Jersey.
One thing I learned in researching 1000 Recordings To Hear Before You Die was that there's a big difference between listening with full attention and having music on in the background. In this way, the act of listening is much different from the act of reading. When was the last time you listened to a piece of music without doing several other things? What did you take away from that experience? What happens when you apply a "reader's focus" – attention to the details of narrative, writerly nuance, recurring devices, etc. – to an exploration of music?
What are some of the ways a reading group might "sync" a book to particular pieces of music, in the manner of a wine-and-cheese pairing? By looking for connections based on history? Or geographical region? (One example: John Kennedy O'Toole's wry A Confederacy of Dunces is set in New Orleans, and so might come alive through music that has a bit of the Crescent City's rhythm, like Professor Longhair's New Orleans Piano, or a work that uses that rhythm to convey a wicked satirical streak, like Randy Newman's Good Old Boys.) Temperment? (There's certainly a similar sense of the heroic running through Ayn Rand's Atlas Shrugged and Beethoven's Violin Concerto.)
Does music always reflect the era of its creation? When we hear baroque music, we're often transported to a particular period – to the point where we can "see" the gowns in the ornate ballroom, in much the way a historical novel sets a scene. But what about compositions that date slightly later, and are not so tethered to a particular image? Is it possible for a performer to interpret Mozart's piano works as "living music," so that the music feels somehow contemporary? What does it take to bring a century-old composition alive?
One of my goals in compiling 1000 Recordings was to celebrate peak musical experiences from all over the world – there are records from Africa, Brazil, Cuba, the Far East, etc. In many cases, the lyrics are in languages other than English. At times, the words can be cryptic or impossible to discern, and often, therefore, not easily translated. Does this change the experience? Should it? Is knowing the meaning of a "text" essential to the appreciation of music?
One important step in becoming a discerning reader or listener has to do with understanding what you don't like. Many people react to music on a purely visceral level; they're either swooning or covering their ears before the piece has ended. It's possible to get the sense of a piece of music within minutes, but it can often take longer to fathom the intricacies and ideas that drive a novel. Does this time-investment difference affect the way we perceive different artistic expressions? Are we more willing to stick with a challenging read for longer than we would a challenging piece of music?