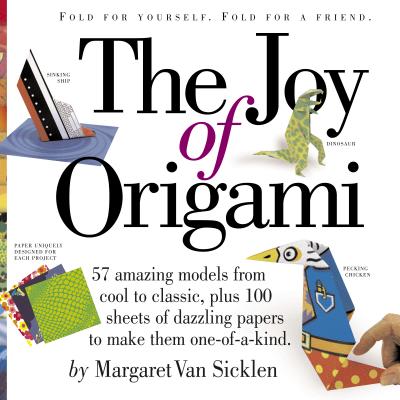 The Joy of Origami (Paperback)
Workman Publishing Company, 9780761139881, 260pp.
Publication Date: October 24, 2005
* Individual store prices may vary.
Description
The origami book, reinvented. From Margaret van Sicklen, author of the Origami Page-A-Day® Calendar and a tireless proselytizer for her craft, The Joy of Origami brings a delightfully fresh twist to the ancient art of paper folding. Traditional in spirit—she reaches back to origami's original aim, as a way to share unique gifts with friends and family—yet contemporary in look and feel, with 100 sheets of paper featuring bold, often whimsical patterns specially designed to complement the models, it's a jazzy, essential book for every origami hobbyist, whether an old hand at folding or new to the craft.

The 57 models range in difficulty from a simple Elephant in Pajamas to a more challenging Tyrannosaurus Rex. There are models for special occasions (Stars and Stripes Pinwheel), action models (the Foxy Puppet), models for kids (One-Trick Pony) and models for friends (the Kissing Cranes). The Everyday Paper section includes models using found paper: four cool ways to fold a dollar bill, an awesome newspaper baseball mitt, and fun ways to turn unwanted business cards into origami creatures.
About the Author
Margaret Van Sicklen, self-described "origami swami," is the author of Joy of Origami and the bestselling Origami Page-A-Day calendar. She lives in New York City and Santa Barbara, California.