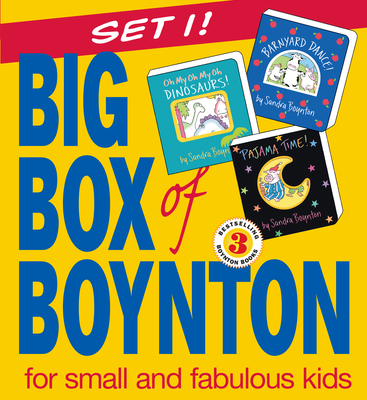 Big Box of Boynton Set 1! (Board book)
Barnyard Dance! Pajama Time! Oh My Oh My Oh Dinosaurs!
Workman Publishing Company, 9780761139898, 24pp.
Publication Date: September 12, 2005
* Individual store prices may vary.
Description
Just the right gift. Perfect for baby showers. Irresistible for a newborn, or for a one-, two-, even a three-year-old's birthday. Ideal as a set that grandparents, aunts and uncles, in-laws, and close personal friends of the baby (babies have close personal friends?) will find particularly perfect to give. Housed in a bold, happy slipcase are three bestselling Boynton on Board books: Barnyard Dance!, Oh My Oh My Oh My Dinosaurs!, and Pajama Time!

It's the wonderfulest introduction to the world of Boynton—square-dancing pigs and sheep, wide-eyed dinosaurs, and a sleepy, PJ-clad menagerie. The books, which in their chunkiness present a deliciously tactile handful for little readers, sport die-cut covers that reveal a glimpse of the fun inside. And what fun it is! Big, bold, humorous, rhyming verses, and those ever-whimsical illustrations that have made Sandra Boynton one of America's best-loved artists. A box of pure read-aloud pleasure.
About the Author
Sandra Boynton is a beloved American cartoonist, children's author, songwriter, and highly sporadic short film director. Boynton has written and illustrated sixty children's books and seven general audience books, including five New York Times bestsellers. More than 70 million of her books have been sold—"mostly to friends and family," she says. Boynton has also written and produced six albums of unconventional children's music; three of her albums have been certified Gold (over 500,000 copies sold), and Philadelphia Chickens, nominated for a Grammy, has gone Platinum (over one million copies sold). Boynton has also written and directed eleven short musical films and two animated shorts, including "Tyrannosaurus Funk," sung by Samuel L. Jackson, which won the 2018 Grand Prize for Best Children's Animation Short from the Rhode Island International Film Festival. In 2008, Boynton received the Lifetime Achievement Award from the National Cartoonists Society. Boynton has four perfect children and an equally perfect granddaughter. Her Connecticut studio is in a converted barn that has perhaps the only hippopotamus weathervane in America.