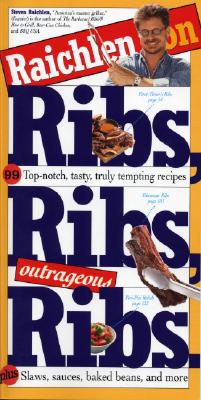 Raichlen on Ribs, Ribs, Outrageous Ribs (Paperback)
Workman Publishing, 9780761142119, 298pp.
Publication Date: May 1, 2006
* Individual store prices may vary.
or
Not Currently Available for Direct Purchase
Description
It's a marriage made in BBQ heaven: America's foremost grilling guru takes on ribs. Baby backs and spare ribs, short ribs and long ribs, pork ribs, beef ribs, lamb ribs, and more--a passionate, single-subject celebration of meaty, smoky, sweet 'n' spicy, crowd-pleasing, fall-off-the-bone-tender ribs.
A perfect rib is the culmination of the griller's art, and nobody's better at showing how to put it all together--the tastes, techniques, ingredients, recipes, tips--than Steven Raichlen, award-winning author of "Barbecue Bible," "How to Grill," "Beer-Can Chicken," and other BARBECUE BIBLE(R) books with 3 million copies in print. Here are 75 mouth-watering, repertoire-expanding, rib-rocking recipes: Buccaneer Baby Backs with Rumbullion Barbecue Sauce. Lone Star Barrel Staves. Tandoori Ribs. Maui-Style Short Ribs. Jamaican Jerk Ribs. Thai Sweet Chili Ribs. The Original Dinosaur Ribs. Cousin Dave's Chipotle Chocolate Ribs. But the book is also a rib clinic: It coversthe nine methods for cooking ribs, from direct grilling to spit-roasting. The essential techniques for handling ribs. Key ingredients in making homemade sauces, mops, andrubs. And boxes throughout to help take your rib cookery to the next level--even to the competition level, with tips on how to enter and how to win.
Advertisement