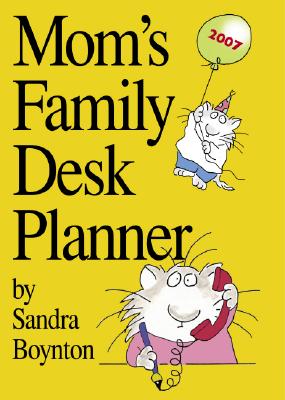 Mom's Family Desk Planner 2007
Calendar

* Individual store prices may vary.
Other Editions of This Title:
Calendar (7/1/2011)
Calendar (6/15/2012)
Calendar (6/25/2015)
Calendar (5/15/2010)
Calendar (7/20/2017)
Calendar (7/30/2009)
Calendar (7/5/2016)
Calendar (6/15/2014)
Calendar (6/15/2013)
Calendar (6/15/2008)
Calendar (6/30/2007)
Description
Mom's Family has a brand-new member! Introducing MOM'S FAMILY DESK PLANNER, the purse-size, take-it-anywhere-and-everywhere companion to the bestselling Mom's Family Calendar™. For moms on the go, this is an indispensable little book. Each week-at-a-glance spread features a "Remember" column with room to organize Mom's schedule separately from family stuff. There are roomy storage pockets on the inside front and back covers to hold receipts and more, plus full-color stickers to flag special events. The tabbed "Family Organizer" back section leaves room to record essential information. Plus perforated grocery and "To Do" lists. And the look? Pure Boynton, with joyful hippos, chicks, pigs, and cows in ample supply.
Workman Publishing Company, 9780761142874, 176pp.
Publication Date: June 1, 2006
About the Author
Sandra Boynton is a popular American cartoonist, writer, and songwriter. Since 1974, Boynton has written and illustrated over forty children's books and seven general audience books, including four New York Times bestsellers. More than 60 million of her books have been sold—"mostly to friends and family," she says. She has also written and produced five albums of award-winning children's music. Three of her albums have been certified Gold, and Philadelphia Chickens, nominated for a Grammy, is nearing Platinum. She lives with her family on a farm in New England.
or
Not Currently Available for Direct Purchase