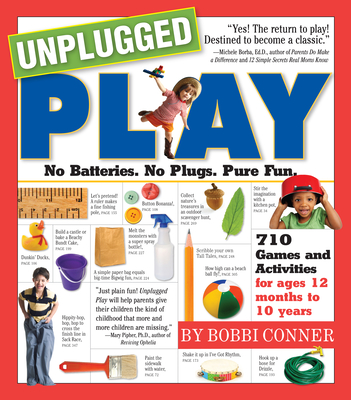 Unplugged Play (Paperback)
No Batteries. No Plugs. Pure Fun.
Workman Publishing Company, 9780761143901, 516pp.
Publication Date: July 18, 2007
* Individual store prices may vary.
Description
From the joy of smearing glue on paper to the screaming delight of a bubble-blowing relay, kids love to play. In fact, it's every kid's built-in tool for experiencing the world at large. A parent-friendly encyclopedia, UNPLUGGED PLAY ("A wonderful guide," says Daniel Goleman) offers hundreds and hundreds of battery-free, screen-free, chirp-and-beep-free games and fun variations that stretch the imagination, spark creativity, building strong bodies, and forge deep friendships...and keep kids busy at the table while mom or dad makes dinner.
About the Author
Bobbi Conner is the creator and host of the award-winning national radio program The Parent's Journal. She is also the author of Everyday Opportunities for Extraordinary Parenting and the mother of three kids, now in college.