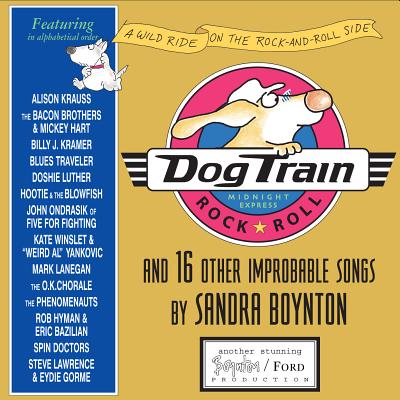 Dog Train CD
And 16 Other Improbable Songs
CD-Audio

* Individual store prices may vary.
Other Editions of This Title:
Hardcover (10/10/2005)
Description
Who let the dog out? Out of its book, that is. Announcing the CD-only Dog Train—the funky, fabulous collection of all-out rock music. Taken directly from Dog Train, the book and CD, it's the same great music, now in the brilliant format music-lovers love. It features:

• SPIN DOCTORS throw a "Tantrum"
• THE O.K. CHORALE presents "Thus Quacked Zarathustra"
• BLUES TRAVELER rocks the "Dog Train"
• MARK LANEGAN sings "Sneakers"
• BILLY J. KRAMER narrates & sings "Cow Planet"
• STEVE LAWRENCE AND EYDIE GORME croon "Boring Song"
• THE BACON BROTHERS AND MICKEY HART clang "Pots & Pans"
• KATE WINSLET AND "WEIRD AL" YANKOVIC sing "I Need a Nap"
• ALISON KRAUSS sings "Evermore"
• JOHN ONDRASIK OF FIVE FOR FIGHTING sings "Penguin Lament"
• THE PHENOMENAUTS rock out "(Don't Give Me That) Broccoli"
• ROB HYMAN AND ERIC BAZILIAN perform "Dragonfire"
• DOSHIE LUTHER sings "Wave Bye-Bye"
• HOOTIE& THE BLOWFISH rock and rock "Rock to Sleep"

Full of attitude, full of fun, all lit up with star power, and boasting a variety of Top 40 styles, Dog Train is also full of words—inside is a 16-page booklet with complete lyrics, and plenty of irresistible hippos, cows, dogs, and more dogs.
Workman Publishing Company, 9780761144472
Publication Date: August 10, 2006
About the Author
Sandra Boynton is a popular American cartoonist, children's author, songwriter, producer, and director. Since 1974, Boynton has written and illustrated over sixty children's books and seven general audience books, including five New York Times bestsellers. More than 70 million of her books have been sold, "mostly to friends and family," she says. She has also written (with Michael Ford) and produced six albums of renegade children's music. Three of her albums have been certified Gold (over 500,000 copies sold), and Philadelphia Chickens, nominated for a Grammy, has gone Platinum (over 1 million copies sold). Boynton has also directed twelve music videos of her songs, including the award-winning "One Shoe Blues" starring B.B. King, "Alligator Stroll" starring Josh Turner, and "Tyrannosaurus Funk" (animation) sung by Samuel L. Jackson. She lives in rural New England, and her studio is in a barn with perhaps the only hippopotamus weathervane in America.

 

Michael Ford, Sandra Boynton's esteemed collaborator on Philadelphia Chickens and Rhinoceros Tap, is a classically trained composer and pianist, with a long detour in Progressive Rock performance. He and his family live down the road a spell from Sandy.