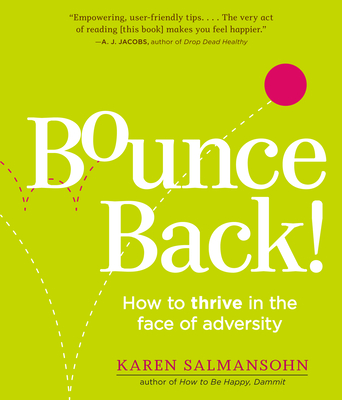 Bounce Back! (Paperback)
How to Thrive in the Face of Adversity
Workman Publishing Company, 9780761146278, 192pp.
Publication Date: May 14, 2008
* Individual store prices may vary.
Description
"The very act of reading it makes you feel happier." - A.J. Jacobs

A bad breakup. A serious illness. The loss of a job. Life has a habit of throwing people curveballs. To which Karen Salmansohn says: "When life throws you curveballs, hit them out of the park."

Bounce Back! mixes from-the-gut wisdom with humor, feistiness, and sophistication, in a hip, inspiring resource that will brighten the darkest mood. The book is grounded in happiness research, psychological studies, Greek philosophy. And it delivers: Here are 70 easily digestible, potentially life-changing tips on how to bounce back from adversity, each on a spread that's as punchy in look as it is powerful in message.

Shrink negativity into nuggetivity. Think of yourself as the type of person the world says yes to. With its attitude, techniques, and advice on everything from exercise to staying connected, plus charming illustration and photography and a bold design, Bounce Back! is a full-on guide to moving forward with great positive energy.

"Salmansohn's writing is bold, playful, insightful—with powerful metaphors that provoke and inspire. Her kinetic images amplify her message and take the book to a new level of literary experience." - Deepak Chopra, author of Seven Laws of Spiritual Success
About the Author
Karen Salmansohn is the author of the bestselling How to Make Your Man Behave ... and How to Be Happy, Dammit. She is a relationship expert for MSN.com and Match.com, and hosts her own daily radio show, "How to Be Happy, Dammit" on Sirius. She lives in New York City.
Praise For Bounce Back!: How to Thrive in the Face of Adversity…
"This book is like Paxil without the side effects. If you've been sucker-punched by life (in other words, if you're a human being), The Bounce Back Book gives you the empowering, user-friendly tips to deal with it. The very act of reading it makes you feel happier." - A.J. Jacobs