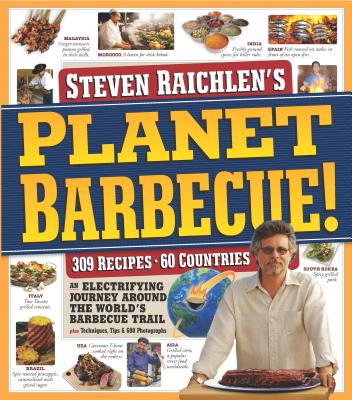 Planet Barbecue!
309 Recipes, 60 Countries (Steven Raichlen Barbecue Bible Cookbooks)
Paperback

* Individual store prices may vary.
Description
The most ambitious book yet by America's bestselling, award-winning grill expert whose Barbecue! Bible books have over 4 million copies in print. Setting out—again—on the barbecue trail four years ago, Steven Raichlen visited 60 countries—yes, 60 countries—and collected 309 of the tastiest, most tantalizing, easy-to-make, and guaranteed-to-wow recipes from every corner of the globe.

Welcome to Planet Barbecue, the book that will take America's passionate, obsessive, smoke-crazed live-fire cooks to the next level. Planet Barbecue, with full-color photographs throughout, is an unprecedented marriage of food and culture. Here, for example, is how the world does pork: in the Puerto Rican countryside cooks make Lechon Asado—stud a pork shoulder with garlic and oregano, baste it with annatto oil, and spit-roast it. From the Rhine-Palatine region of Germany comes Spiessbraten, thick pork steaks seasoned with nutmeg and grilled over a low, smoky fire. From Seoul, South Korea, Sam Gyeop Sal—grilled sliced pork belly. From Montevideo, Uruguay, Bandiola—butterflied pork loin stuffed with ham, cheese, bacon, and peppers. From Cape Town, South Africa, Sosaties—pork kebabs with dried apricots and curry. And so it goes for beef, fish, vegetables, shellfish—says Steven, "Everything tastes better grilled."

In addition to the recipes the book showcases inventive ways to use the grill: Australia's Lamb on a Shovel, Bogota's Lomo al Trapo (Salt-Crusted Beef Tenderloin Grilled in Cloth), and from the Charantes region of France, Eclade de Moules—Mussels Grilled on Pine Needles. Do try this at home. What a planet—what a book.
Workman Publishing Company, 9780761148012, 656pp.
Publication Date: May 1, 2010
About the Author
Steven Raichlen is the author of the New York Times bestselling Barbecue! Bible® cookbook series, which includes the new Brisket Chronicles; Project Fire; Barbecue Sauces, Rubs, and Marinades; Project Smoke; The Barbecue Bible; and How to Grill. Winners of 5 James Beard awards and 3 IACP awards, his books have been translated into 17 languages. His TV shows include the public television series Steven Raichlen's Project Fire, Project Smoke; Primal Grill; and Barbecue University; the French language series Le Maitre du Grill, and the Italian series Steven Raichlen Grills Italy. Raichlen has written for the New York Times, Esquire, and all the food magazines; and is the founder and dean of Barbecue University. In 2015, he was inducted into the Barbecue Hall of Fame. His website is www.barbecuebible.com.
Book Videos