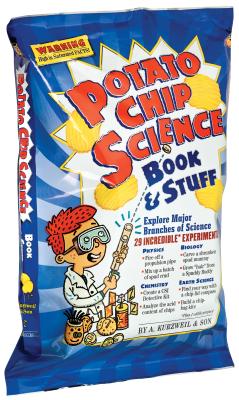 Potato Chip Science (Other book format)
29 Incredible Experiments
Workman Publishing Company, 9780761148258, 96pp.
Publication Date: September 10, 2010
* Individual store prices may vary.
Description
Snack on science! Make a science of snacks! Potato Chip Science is the book and kit that's an irresistible introduction to science for 8- to 12-year-olds. Here are 29 incredible experiments—plus one edible project—that use potato chips, potatoes, potato chip bags, tubes, and lids. Included in the bag are a 96-page two-color book and a dozen items that kids can use for the following "snacktivities":

Bag Blaster - Bird Feeder - Chipmobile - Chip Analyzer - Chip-Ship Challenge - Chip-Tube Gobbler - "Color" Wheel - Compass - Composter - Confetti Can-non - CSI Detective Kit - Dancing Chips - Electric Wave - Flipper - Hydrofoil - Kissing Tubes - Kite - Mini Extermi-tater - Potato Bender - Potato Chip Crunchies - Potato Battery - Saucer Tosser - Shrunken (Potato) Head - Signal Mirror - Sound Spinner - Spud Crud - Spuddy Buddy - Walkie-Talkie - Windmill

Product Features:
-  96-page book providing step-by-step instructions
-  Bag that can be turned into a kite, compass, or "hydofoil"
-  Digital sound chip that plays "Twinkle, Twinkle, Little Star" . . .   powered by a potato! (spud not included)
-  6-inch propulsion pipe that launches spud pellets 50 feet!
-  Recyclable base (makes a great Chipmobile chassis!)
-  6 optical stickers
-  6 chip lids (the wheels of the Chipmobile!)
-  Spud-powered digital clock (once again, potato not included)
-  4 zinc and copper electrodes
-  Googly eyes (Yeah!)
-  Wire connectors
-  Eco-friendly starch knife (to carve the Spuddy Buddy and Shrunken Potato Head)
-  Packing "chips" (used as ammunition for the Confetti Can-non!)

Manufactured in the United States of America.
Potato Chip Science received the Gold Medal from The National Parenting Publication Awards, and a Gold "Brain Child" Medal from Tillywig.
About the Author
Allen Kurzweil is the author of Leon and the Champion Chip—the second in a series of young-reader novels—in which he first explored the idea of a science curriculum based on the potato chip. Mr. Kurzweil has also written two award-winning novels for adults, A Case of Curiosities and The Grand Complication. Currently a fellow at the John Nicholas Brown Center for the Study of American Civilization at Brown University, he lives in Providence, Rhode Island, with his wife and son, Max, his potato chip science collaborator and beta-tester. 

Praise For Potato Chip Science: 29 Incredible Experiments…
"A new wrinkle – or should it be crinkle? – on the kitchen-table science fair." - Buffalonews.com



"Entertaining, pun-filled, intriguing, creative, and appealing." - Kirkus

"A hit with booksellers." - Publishers Weekly

"Perfect for kids. (I would have gone nuts for this as a child! And who am I kidding? I'm in my twenties and I still think it's pretty cool!)" - EW.com

"A fantastic book of science experiments for kids to do with their parents. It's terrifically designed, and filled with fun facts and puns and silliness. Super fun!" - Goodreads.com

"Betcha can't test just one." - Youngexplorers.com

"Holy potato chips! Batman. There's something about the crinkle of a bag of chips that is like a geek siren song." - ThinkGeek.com

"If you have a wee one with an interest in science... check out Kurzweil's latest project, the science kit in a potato chip bag." - Techcrunch.com

"Got a kid who loves science? What about potato chips? Check out Potato Chip Science -- a grab bag of lessons on everything from physics to forensics, from navigation to neuroscience." - Idaho Statesman

"Potato Chip Science makes experiments tasty for children. Most kids do not need much motivation to tear into a bag of chips. So why not come up with a way to take that natural tendency and use it to expand a child's mind more than his or her waistline?" - Tulsa World

"There's a science-deficit among America's young and one man's cure comes packed in a potato chip bag." - CBS-TV (Philadelphia)

"An irresistibly introduction to the tasty side of science." - Mindware.com

"School's in session, which means—deep breaths, parents—science fairs are just around the corner. Get kids motivated early and find some simple-to-implement, innovative ideas with Potato Chip Science" - Time Out, Chicago, IL

"Kids will get a recommended dose of fun with their lessons in physics, biology, chemistry and earth science that is, as the packaging says, 'High in saturated facts.'" - L.A. Parent

"A new wrinkle – or should it be crinkle? – on the kitchen-table science fair." - Buffalonews.com



Book Videos