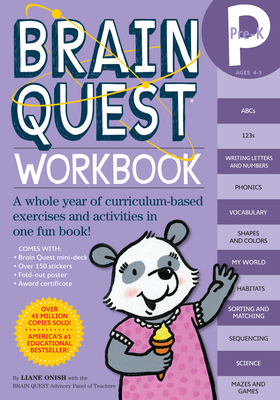 Brain Quest Workbook (Other book format)
Pre-K (Brain Quest Workbooks)
Workman Publishing Company, 9780761149613, 320pp.
Publication Date: July 9, 2008
* Individual store prices may vary.
Description
Jam-packed with hundreds of curriculum-based activities, exercises and games in every subject, Brain Quest Pre-K Workbookreinforces what kids are learning in the classroom. The workbook's lively layout and easy-to-follow explanations make learning fun, interactive, and concrete. Plus it's written to help parents follow and explain key concepts. Includes ABCs, 123s, tracing letters, mazes, shapes, colors, beginning sounds, sorting and matching, "what's wrong with this picture" games, and much, much more.

About the Author
Liane Onish writes and edits children's education books, magazines, games and classroom materials. She has also taught preschool through fifth grade.