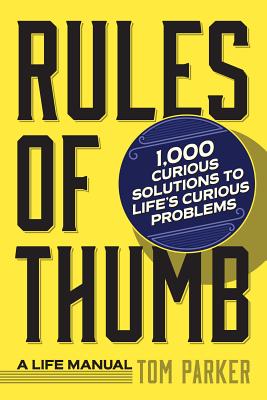 Rules of Thumb (Paperback)
A Life Manual
Workman Publishing Company, 9780761150732, 409pp.
Publication Date: October 1, 2008
* Individual store prices may vary.
Description
A mix of folk wisdom, common sense, shared experience, the advice of experts, and the kind of group think that's made websites like Wikipedia so vital, Rules of Thumb is the impulsive compendium of 1,000 general principles that apply to every facet of life. Collected by Tom Parker for over 25 years, these are rules that are practical, quirky, and as entertaining to read as they are relevant to the reader.

There's a rule of thumb for just about every subject imaginable— money, marriage, cooking, health, weather, cars, gardening, restaurants, travel. This is the priceless knowledge that's accumulated not from reading, but from living. Tempted by a string of pearls at a yard sale? Rub them against your teeth: The rule of thumb, as your grandmother might have told you, is that a genuine pearl will grate. Not sure how to choose a puppy? Pick one whose tail wags in sync with its walk—a sign of calmness. To win at blackjack, assume that any unseen card is an eight. And remember, a rule of thumb works four out of five times (including this one).
About the Author
Tom Parker is an author and illustrator who has written three volumes of Rules of Thumb, which The Wall Street Journal called a "brilliantly successful sample of our hidden intellectual resource." He is an IT specialist at Cornell University, a contributing writer for Make magazine, and a flight instructor. He lives in Ithaca, New York.