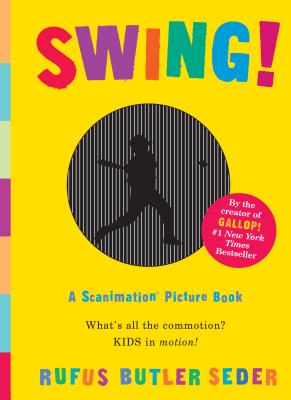 Swing! (Scanimation) (Hardcover)
Workman Publishing Company, 9780761151272, 12pp.
Publication Date: October 15, 2008
* Individual store prices may vary.
Description
Published last fall, Gallop! introduced the amazing technology called Scanimation and took the children's book world by storm. It became an instant bestseller—#1 on The New York Times children's list.

Now Swing! does for kids what Gallop! does for animals—a boy rides a bike, a girl kicks her soccer ball, a swimmer cuts through the water, and a skater pirouettes on ice. The effect is joyous, magical, mesmerizing, and taps into the the endless fascination that children find in watching other children. The second book created by Rufus Butler Seder, the inventor, artist, and filmmaker who developed Scanimation out of his obsession with antique optical toys and other pre-motion-picture illusions, Swing! uses "persistence of vision" and a patented state-of-the-art multiphase animation process to create astonishment. There is nothing else like this unique, patented technology that literally inspires wonder.

The images burst with activity, and adding greatly is a happy, rhyming text that captures in words the pure energy of the figures in motion. You can't put it down.
About the Author
Rufus Butler Seder is an optical genius whose first significant invention was Lifetiles, glass-walled murals that appear to come to life when the viewer walks by. He's installed them at the Smithsonian, SeaWorld, Union Station, and other museums, aquariums, train stations, and ocean liners around the world. Next came Scanimation, and his company EyeThink, Inc., a business that produces a line of toys and gifts using technologies he's invented. Mr. Seder lives in Boston, Massachusetts.
Book Videos